Aberystwyth represented at EUMETSAT climate symposium in Germany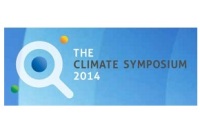 The Annual Climate Symposium is being held this week, 13 to 17 October 2014
A recent graduate and a student from Aberystwyth University have secured funding from the European Organisation for the Exploitation of Meteorological Satellites (EUMETSAT) to present their work at this week's Annual Climate Symposium which is being held this week in the German city of Darmstadt.
Matt North, who recently graduated from Department of Geography and Earth Sciences (DGES) and is now a technical assistant at the Department, and ERASMUS student Salim Lamine, secured funding as 'early career scientists' to attend the conference.
The main focus of the conference is climate research and earth observation and is seen as an "important step towards defining requirements and the further development of an efficient and sustained international space-based earth observation system."
Topics such as clouds, circulation and climate seasons, ocean circulation, changing water cycle and regional climate variability and change will also be discussed.
Matt will present his work entitled "Validating a 1D SVAT model in European Ecosystems: A tool to study our climate and Earth system interactions" which is the first all-inclusive large scale validation of a land biosphere model at a range of European ecosystems.
Matt said; "As a recent graduate from DGES, securing funding from EUMETSAT was the only way I could attend this conference. The results I will be presenting are from the first European wide validation of the SimSphere land Biosphere model. Being able to accurately monitor the terrestrial environment, particularly through climatic change, is imperative for both scientists and the global community alike."
Salim's paper is on the topic of "Validation Operational Evapotranspiration Estimates from Geostationary Orbit Data: Results over European Ecosystems".
Speaking of the financial support he has received, Salim said; "Honestly, it would not be possible for me to attend this symposium and present my work without receiving the financial support from EUMETSAT. My work is focusing on the Evapotranspiration, as a significant component of the water cycle and how it is linked to our climate system."
Both students' work are outcomes of the PROgRESSIon research project implemented at DGES, funded by the European Space Agency on which Aberystwyth University staff member Dr George P. Petropoulos is the Principal Investigator.
Dr Petropoulos described the Annual Climate Symposium as "a very important conference related to the use of Earth Observation Modelling in climate research."
A live feed is available for those not at the Conference to watch proceedings live and can be followed on Twitter using the hashtag #climaspace

AU42814