New learning and teaching facilities opened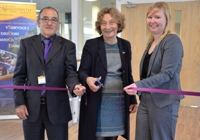 Aberystwyth University Pro Chancellor, Elizabeth France (Centre) opens the new learning and teaching facilities in the Llandinam Building, with Nigel Thomas, Learning Spaces Design Development Manager and architect Nia Jeremiah.
The latest phase of a £3.6m investment programme to upgrade teaching and learning facilities at Aberystwyth University has been completed in time for the new academic year.
Ten lecture and seminar rooms, and learning and study spaces in the University's Llandinam Building, home to the Department of Geography and Earth Sciences, have undergone a comprehensive upgrade over the summer.
Kitted out with the latest in audio-visual technology, every room has been redecorated and equipped with new furniture which can be adapted to reflect a host of different teaching and learning requirements, from group work to more traditional seminar and lecture layouts.
New audio-visual equipment will make it easier to record lectures for students to access via the University's Virtual E-learning environment, AberLearn Blackboard, enabling students to recap on lectures and further facilitate learning and revision.
The Llandinam Concourse, which has long been a forum for students and staff to meet and exchange ideas, now offers synergy desks that enable people to link mobile devices and view their work on a large screens to encourage collaborative work and study.
Another Llandinam workstation room, B23, has been transformed with large wall mounted screens linked to 102 computers that enable lecturers and students to share information and ideas during lectures.
Fitted to specially designed desks that offer USB charging points for mobile devices, the computer screens can be folded away to provide clear desks in a matter of seconds.
In addition, one of the University's main lecture theatres, A12 in the Hugh Owen building, has been upgraded and its seating capacity increased to nearly 350.
The new facilities were formally opened by Council representative, Pro Chancellor Elizabeth France, on Friday 26 September.
Pro Chancellor France said; "It is a pleasure to mark the opening of these excellent new facilities. Aberystwyth is undertaking one of its largest investment programmes in its 142 year history. The increase in student satisfaction with the quality of teaching and the learning resources seen in the latest National Student Survey (NSS) clearly shows that the work done to date is having a beneficial effect on the learning experience. These latest developments represent a significant further step and build on the excellent work that has already been done."
The work to design and create the new teaching and learning spaces has been led by Nigel Thomas, Learning Spaces Design Development Manager and Nia Jeremiah, an architect on secondment from Ceredigion County Council.
Commenting on the development, Nigel Thomas said: "Our brief was to create bright new learning spaces that provide the latest technical advancements for teaching, combined with modern and adaptable furniture that will benefit students and staff alike, giving them the ability to work in the way that best suits them.
"The team has worked tirelessly over the summer months to make this possible and it is hugely rewarding to see everything come together in time for the new academic year. We very much hope that students and staff will enjoy the new facilities and make the most of what they have to offer."
Phase 1 of the project involved the upgrading of learning and teaching facilities in the Hugh Owen building. This was completed in time for the 2013/14 academic year, as was the redevelopment of facilities at the Llanbadarn Centre, which represented an investment of £4m.
The project team is currently considering the next phase of the work which is due to be completed in time for the 2015 academic year.
AU39514