Aberystwyth University awarded Athena SWAN Bronze Award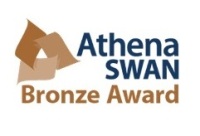 Athena SWAN Bronze Award
Aberystwyth University has received its first Athena SWAN Charter Award that recognises commitment to advancing women's careers in science, technology, engineering, maths and medicine (STEMM) in higher education and research.
The University is among seven Higher Education and research institutions to have achieved their first Athena SWAN award in the first of two awards rounds this year. Overall, 83 higher education institutions, research institutes and individual schools and departments will receive awards.
The Athena Swan Charter recognises and celebrates good practice on recruiting, retaining and promoting women in STEMM subjects in higher education and has become increasingly important to Higher Education Institutions and Research Councils in the UK.
Professor Kate Bullen, Director of Ethics and Equality at Aberystwyth University explains, "We're absolutely delighted with this recognition for the University which highlights the good work we're doing on gender equality and especially women in science.
"We know that women are under-represented in science, especially in more senior roles, but we're making positive steps in changing this cycle by understanding why this might be and what could be done to help women reach their full potential in the workplace."
Professor April McMahon, Vice-Chancellor of Aberystwyth University said, "Our new Director of Ethics and Equality, Professor Kate Bullen, led the way on this important work and we are all extremely grateful and delighted with the outcome.
"We were recently awarded a Bronze Award for the Gender Equality Charter Mark (GEM) which recognises our commitment to gender equality in the arts, humanities and social sciences. To have achieved the Athena SWAN Bronze Award also for our commitment to women in STEMM subjects is a huge achievement and something we can all be extremely proud of."
Earlier this month (5 September), Aberystwyth University was recognised for its progress in advancing gender equality in arts, humanities and social science careers in higher education.
The University achieved Bronze level in the Equality Challenge Unit's (ECU) trial Gender Equality Charter Mark (GEM) – the first award scheme of its kind for these disciplines. GEM also recognises work on equality for professional support staff as well as academics.
The awards ceremony for Athena SWAN will be held on Thursday 6 November at the University of Cambridge.
AU41014