Aberystwyth shortlisted under two categories for digital preservation awards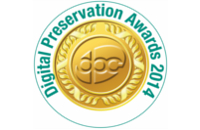 Digital Preservation Awards 2014
Aberystwyth University has been shortlisted under two categories in this year's Digital Preservation Awards 2014.
Created in 2004 by the Digital Preservation Coalition (DPC), the Awards are a celebration of achievement for those people and organisations that have made significant and innovative contributions to ensuring our digital memory is accessible tomorrow.
They are operated on behalf of a diverse community to raise awareness of the digital preservation challenge. They celebrate hard work and ingenuity which otherwise is unrecognised and they recognise outstanding personal efforts. The awards catch the attention of decision makers, encourage investment and consolidate partnerships.
The judges have shortlisted thirteen finalists in four categories:
The NCDD Award for Teaching and Communications, recognising excellence in outreach, training and advocacy.
Practical Digital Preservation: a how to guide for organizations of any size by Adrian Brown
Skilling the Information Professional by Aberystwyth University
Introduction to Digital Curation: An open online UCLeXtend Course by University College London
The DPC Award for the Most Distinguished Student Work in Digital Preservation, encouraging and recognising student work in digital preservation.
Voices from a Disused Quarry by Kerry Evans, Ann MacDonald and Sarah Vaughan, Aberystwyth University and partners
Game Preservation in the UK by Alasdair Bachell, University of Glasgow
Emulation v Format Conversion by Victoria Sloyan, University College London
The OPF Award for Research and Innovation which recognises excellence in practical research and innovation activities.
Jpylyzer by the KB (Royal Library of the Netherlands) and partners
The SPRUCE Project by The University of Leeds and partners
bwFLA Functional Long Term Archiving and Access by the University of Freiburg and partners
The DPC Award for Safeguarding the Digital Legacy, which celebrates the practical application of preservation tools to protect at-risk digital objects.
Conservation and Re-enactment of Digital Art Ready-Made, by the University of Freiburg and Rhizome
Carcanet Press Email Archive, University of Manchester
Inspiring Ireland, Digital Repository of Ireland and Partners
The Cloud and the Cow, Archives and Records Council of Wales
The awards will be presented at a gala reception evening in London on Monday 17 November 2014.
For more information, visit the DPC website.
AU40514