Four new lecturers appointed at Aberystwyth University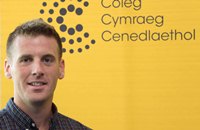 Robert Bowen, Coleg Cymraeg Cenedlaethol
For the fourth consecutive year, the Coleg Cymraeg Cenedlaethol has appointed individuals to work in various subject areas at Aberystwyth University in order to increase the Welsh medium provision.
Catrin Edwards will return to Wales in order to take up a lecturing post in International Politics following a period spent working at Ottawa University, Canada. Catrin's main areas of expertise are language, education and immigration policy and she holds a doctorate in the subject area from the International Politics Department at Aberystwyth University.
Gareth Llyr Evans has been appointed to a lectureship in Creative Arts at Aberystwyth University. He has extensive experience of teaching through the medium of Welsh following two years spent lecturing in the University's Theatre, Film and Television Studies Department. Gareth will be responsible for delivering and co-ordinating the BA Creative Arts degree and will also contribute to research work in this subject area.
Dafydd Llywelyn has been appointed to a lectureship in the area of Criminology at the university. Dafydd's area of expertise is the work of the police and intelligence following a period spent working as Chief Crime Analyst for Dyfed Powys Police. His work will involve collaborating with other universities by holding lectures on a joint basis in order to increase Welsh medium provision in the subject area.
Robert Bowen has been appointed to a lectureship in the area of Rural Business Management and Innovation at the university having spent a period of time lecturing at Nantes University, France. Robert's work will involve expanding the collaboration between the School of Business and Management and the Institute of Biological, Environmental and Rural Sciences, by creating a new undergraduate programme in the Management of Food Production.
Robert explains, "This post in the School of Business appeals greatly to me as it is in partnership with the Institute of Biological, Environmental and Rural Sciences. Without doubt it will be an excellent opportunity to develop contemporary modules which are likely to appeal to students wishing to study part of their course through the medium of Welsh."
Ioan Matthews, Chief Executive of the Coleg Cymraeg Cenedlaethol said, "We were pleased to hear that Aberystwyth University have succeeded in appointing these individuals under the Coleg Cymraeg's Academic Staffing Scheme and we wish them well as they begin to develop the provision in their relevant subject areas. The appointments will without doubt deliver an additional boost to the strong Welsh medium community which is already in place on the University campus."
AU35614