New role promotes research excellence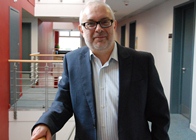 Professor Colin McInnes
Professor Colin McInnes from the Department of International Politics has been appointed the new Professor of Research, Impact and Excellence at Aberystwyth University.
The new role will involve promoting research excellence across the University and specifically monitoring, advising and preparing Institutes and Departments at Aberystwyth for the next Research Excellence Framework (REF) in 2020.
REF is the system for assessing the quality of research in UK higher education institutions (HEIs).
The REF 2014 submission was completed last year and the assessment is conducted by expert panels on behalf of the four UK higher education funding bodies, including the Higher Education Funding Council of Wales (HEFCW). The results are due to be published on Thursday 18 December 2014.
Professor McInnes joined the Department of International Politics in 1986. He is the UNESCO Professor of HIV/AIDS, Education and Health Security in Africa and is also Director of the Centre for Health and International Relations (CHAIR).
He explains, "There is great research taking place at Aberystwyth. It's a case of raising the bar even higher for REF 2020 and tracking the impact of a piece of research from the very beginning.
"I look forward to the new challenges ahead and working closely with the University's departments, institutes and executives to deliver a successful assessment."
Professor McInnes was formerly Head of the Department of International Politics. He has published widely and his recent books include Global health and International Relations (with Kelley Lee) and The Transformation of Global Health Governance (with others).
AU33314