New drugs to tackle parasitic worms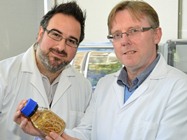 Prof Peter Brophy and Dr Russ Morphew from IBERS with parasitic roundworms
Scientists at Aberystwyth University's Institute of Biological, Environmental and Rural Sciences (IBERS) are bringing together chemists, biologists and parasitologists from Welsh universities and companies based in Wales to build and lead a new consortium for parasite drug discovery and research within Wales.
The scientific term for parasitic worms is helminths and drugs capable of destroying or eliminating parasitic worms are known as anthelmintics.
Professor of Parasitology Peter Brophy from IBERS said, "Parasitic worms (helminth) have devastating impacts on human health, animal welfare and food production, with climate change spreading worm diseases to new regions.
"The control of parasitic worms of livestock is not sustainable in the absence of vaccines, increasing anthelmintic (drug) resistance and few alternative drugs.
"Parasitic helminths are a major threat to global food security and food borne human disease. Better diagnostics, vaccination strategies and new anthelmintic compounds are urgently needed."
IBERS is strategically funded by the Biotechnology and Biological Sciences Research Council (BBSRC) and a free one-day workshop with a networking evening dinner, funded by the BBSRC & National Research Network (NRN), will be held in Aberystwyth on the 15th September 2014 to stimulate research in anthelmintic discovery within Wales.
The workshop will be held at the Medrus Conference Centreon Penglais Campus, Aberystwyth University. Financial assistance is available for graduate students and early career scientists to attend the workshop. A limited number of places remain – for registration please contact worms-registration@aber.ac.uk