iOSDevUK 4 conference comes to Aberystwyth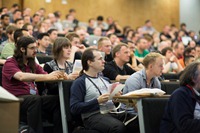 iOSDevUK conference
The iOSDevUK conference takes place at Aberystwyth University from 2-4 September 2014 and is the largest event of its type in the UK.
The conference welcomes Apple developers from all over the world to learn and share knowledge and experiences of the technology.
This year the conference will be focusing on Apple's new development platform, Swift, as well as covering new industry trends such as Wearable Technology.
Professor Chris Price of the Department of Computer Science at Aberystwyth University, who founded the conference, comments, "iOSDevUK gets bigger and better year after year and this year's conference is our most exciting line up yet! We're delighted to have such prestigious speakers at our conference here in Aberystwyth and we're very much looking forward to yet another successful iOSDevUK."
The delegates will be given the opportunity to attend talks and tutorials by over 20 Apple experts including Colin Eberhardt from Scott Logic who will present a session on ReactiveCocoa and leading app developer, Emily Toop, will look at the way in which wearable technologies are revolutionising healthcare.
Dr Neal Harman, project director at Software Alliance Wales and sponsor of the event, said, "We are delighted to be supporting such a great event. iOSDevUK welcomes developers and industry experts from all over the world to come and learn new IT skills. All this, in the heart of Wales is a real testament to the ambition of the Welsh technology industry."
The conference, sponsored by Welsh Government, StartApp, Software Alliance Wales, Facebook, JetBrains AppCode and Bromium, attracts some of the industry's most influential thought leaders.
For more information about the event, please visit http://www.iosdevuk.com/
AU33114