Aberystwyth Arts Centre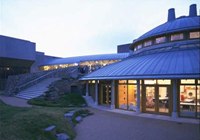 Aberystwyth Arts Centre
It is with regret that we need to inform you that, due to unforeseen and sad circumstances, Aberystwyth Arts Centre will be closed on Tuesday 5 August 2014.
As a consequence, all screening and shows will be cancelled and the shop, cafes and galleries will not be open.
Tickets for Sister Act and Cinema screenings will be moved to alternate performances or refunded. The Box Office team will be in touch in due course. Alternatively, please contact the Arts Centre Box Office on 01970 623232 from Wednesday onwards.
We apologise for any inconvenience caused and are grateful for your patience and consideration.
Aberystwyth Arts Centre