University awarded EcoCampus Bronze Award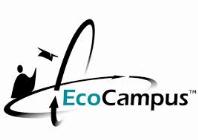 As part of its participation in the EcoCampus National Award Scheme, Aberystwyth University was recently awarded the Bronze Certificate for introducing an Environmental Management System (EMS) across the University.
The award scheme helps universities to systematically and continuously identify, evaluate, manage and improve its environmental performance and practices in various progressive phases.
A successful campaign which attracted support from staff and students was the 'Student Blackout' campaign to help reduce energy usage and CO2 across the University.
Janet Sanders, Energy Advisor at Aberystwyth University, explains, "The Student Blackout campaign was very successful and made the staff and students think twice about the amount of energy they unnecessarily use.
"The University is committed to be as efficient as possible in its use of energy and natural resources in order to minimise its impact on the environment and its energy costs and this award recognises that fact."
EcoCampus is closely aligned to ISO 14001, the international environmental management standard, and BS 8555, the British guidance standard.
At Bronze level, the University has demonstrated institutional commitment through its senior management, produced an Environmental Sustainability Policy, conducted a baseline review of its impact on the environment, established roles and responsibilities and evaluated training needs.
The EcoCampus system covers all aspects of the University's operations including: waste management, energy use, water efficiency, sustainable purchasing, construction and refurbishment, biodiversity, travel and community involvement.
The University will be applying for the Silver Award in October of this year, which is the next phase of the award scheme and involves identifying significant environmental aspects and impacts, setting objectives and targets and implementing an environmental programme to ensure that these are achieved.
More information can be found on EcoCampus here: http://www.ecocampus.co.uk
AU20314