Talented US students visit Aberystwyth University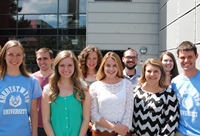 The Fulbright students and Gillian McFadyen
The Fulbright Commission Wales Summer Institute, now in its fourth year, is a six-week cultural and academic programme for US students held at three internationally renowned Welsh universities: Aberystwyth, Bangor and Cardiff University.
Eight talented US students are to explore the geography, culture, heritage and history of Wales, visiting museums, galleries and tourism landmarks from 21 June - 2 August 2014.
The undergraduates have already visited Cardiff and Bangor University and are now spending a fortnight at Aberystwyth and will look at the changing economic and social issues of mid Wales.
Gillian McFadyen from the Department of International Politics, explains, "They've got a busy schedule planned over the next fortnight visiting the Royal Welsh Show, Ynyslas Dunes, the National Library of Wales, Welsh Government, Nant yr Arian, Hafod Estate, the Centre for Alternative Technology as well as attending seminars and talks at Aberystwyth University.
"The aim of the programme is to provide the students with an exciting academic programme, to explore the geography, culture, heritage and history of Wales as well as develop their learning, research and communication skills."
At Cardiff, the students studied economic and industrial change in South Wales over the past three centuries and at Bangor, the students explored how, in a rapidly globalising world, a small nation upholds its identity, traditions, culture and language.
The Fulbright Commission has been promoting peace and cultural understanding through educational scholarships for more than 60 years. The Summer Institutes are designed to introduce students to the UK while developing their academic and leadership skills.
The students are as follows:
Paige Balcom, University of New Hampshire
Kelly Allen, Arizona State University
Kiersten Kuc, University of Missouri-Columbia
Emily Schebler, Ball State University
Nathaneal Thomas, United States Military Academy at West Point
Matthew Waskiewicz, American University
Jacqueline Welsh, Arizona State University
Roberto Roldan, University of South Florida
Some of the students have set up blogs to share their experiences of the Fulbright Summer Institute:
Emily Schebler: My Welsh Adventure 
Jacqueline Welsh: Letters from Wales 
Matthew Waskiewicz: Finding Wales
Roberto Roldan: A Bull Abroad
AU30914