Windsor Fellowship Vivian Ezugha graduates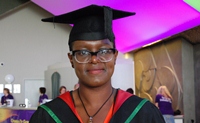 Vivian Ezugha
Vivian Ezugha, the only Wales-based candidate to have been a Windsor Fellowship last year, has graduated in Fine Art at Aberystwyth University.
The Fellowship is a one year professional and personal development programme for Black and Minority Ethnic (BME) undergraduates committed to working in Wales.
This October, Vivian will start a 50-week paid employment with the Education Department in Welsh Government, also as part of the Windsor Fellowship award.
She explains, "I look forward to this placement which will help me to provide essential skills for young people in Wales looking to enter the workplace.
"The Fellowship helped improve my leadership skills, personal development skills and a bigger objective of building a brighter future for Black and Ethnic Minorities in England and Wales.
"I feel that these skills will be invaluable at Welsh Government because I will be able to use what I've learnt to help other young people achieve their potential."
Originally from Nigeria, Vivian moved with her family to live in Birmingham when she was eight years old. She decided to study at Aberystwyth because of its strong cultural identity and to be closer to the sea and the countryside.
For six weeks over the summer, Vivian will be participating in the Wysing Arts Centre arts summer programme in Cambridge as part of their Leverhulme Arts Scholars Summer School.
The 23-year-old adds, "I believe in helping young people from all backgrounds in gaining confidence and knowing that they can achieve excellence regardless of their social situation."
"In future, I'd like to participate in in community art projects and eventually, I'd like to study a Masters in Performance Art as this area really fascinates me."
More information on the Windsor Fellowship can be found here: http://www.windsor-fellowship.org%20
More information on the Leverhulme Arts Scholars Summer School can be found here: http://www.wysingartscentre.org/whats_on/young_artists/leverhulme_arts_scholarships1%20
AU28214