Leading rice expert honoured as Fellow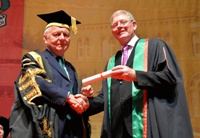 Sir Emyr Jones, President of Aberystwyth University, presents Dr John Sheehy as a Fellow of Aberystwyth University.
Emeritus Head of Applied Photosynthesis and Systems Modelling Laboratory at the International Rice Research Institute (IRRI), Dr John Sheehy, has been honoured as Fellow of Aberystwyth University.
An alumnus of Aberystwyth University, Dr Sheehy has been a scientist leading multidisciplinary teams in the public sector specialising in the physiology of crops, their yield and the environment.
He pioneered a ground-breaking research program, assembling an international team of scientists to kick start a new evolution in rice and break the rice yield barrier by supercharging photosynthesis.
The initiative was funded by the Bill and Melinda Gates Foundation and, shortly after retiring, he was honoured with an OBE.
Dr John Sheehy was presented by Professor Iain Donnison from the Institute of Biological, Environmental and Rural Sciences on Thursday 17 July.
Professor Iain Donnison's presentation to Dr John Sheehy:
"John Sheehy started his career in Aberystwyth at University College Wales where he was both an undergraduate and postgraduate during the late 1960s and early 1970s. While today I am presenting John who is recognized as an eminent plant and crop scientist he started life as an engineer and initially studied maths and physics completing an MSc on the telemetry of electrocardiograms from athletes. John was clearly well ahead of his time as now there is more emphasis on IBERS and Sports & Exercise science working more closely together.
John joined the Welsh Plant Breeding Station as a Nuffield Research Fellow and completed his PhD in 1971. He enjoyed his university life to the full being elected deputy chairman of Pantycelyn Hall and later became deputy warden of Carpenter Hall. He spoke in debates, became a member of the staff drama group, and was producer of the university Cabaret club. He also played squash for the college and the University of Wales and played rugby for the town. Later in his career such skills were in demand again as a public speaker and his seminar describing the problems associated with employing creative scientists: 'The Universe, the Evolution of the Perverse, and a Rice Problem' became a highly downloaded discussion paper.
John spent 17 years at the Grassland Research Institute near Reading, an institute which merger into what would later become IBERS. He then worked for a number of years in the private sector running his own business called "Creative Scientific Solutions" and teaching at the Business School of Wycombe College. In 1995 he joined the International Rice Research Institute (IRRI) in the Philippines where scientists from around the world come together to boost rice production under an overarching banner of using science to help create a better world. John is recognized in his field for working on fundamental crop characteristics which are considered absolutely critical to solving the global challenge of increasing food production sustainably. This included work on nitrogen fixation in legumes and breaking the yield barrier in rice through optimizing the efficiency of photosynthesis. John's work also spanned research into New Plant Types and Climate Change. His work on supercharging photosynthesis to close the yield gap was funded by the Bill and Melinda Gates Foundation and shortly after retiring he was honoured with an OBE.
Today John has returned to Aberystwyth which has played an important role in his life not just professionally but also personally. John not only studied here but he also married a graduate of the University, and he and his wife have two daughters and now six grandchildren.
Mr President, it is an honour and a pleasure to present to you Dr John Sheehy, as a Fellow of Aberystwyth University."
Graduation 2014
Eleven Fellows are being honoured this week by Aberystwyth University during this year's Graduation ceremonies which take place at the University's Arts Centre from Monday 14 until Friday 18 July.
The title of Fellow is awarded to individuals who have a close association with Aberystwyth and the University, or who have made an outstanding contribution to professional or public life in Wales.
Also being honoured are:
D. Geraint Lewis, author, former Education and Children's Librarian for Dyfed and Assistant Director of Education at Ceredigion County Council.
Professor John Harries, renowned atmospheric physicist and Wales' first Chief Scientific Adviser.
Jeremy Bowen, BBC Middle East Editor.
Sir Michael Moritz, Cardiff-born venture capitalist and philanthropist.
Rhodri Meilir, actor and Aberystwyth graduate who recently appeared in the National Theatre of Wales' highly acclaimed Mametz.
Ed Thomas, playwright, director and producer, and founder member and creative director of TV production company Fiction Factory.
Rhod Gilbert, comedian and radio and TV presenter.
Professor Bonnie Buntain, Assistant Dean Professor of Public Health at the University of Calgary in Canada and former Chief Public Health Veterinarian at the Food Safety and Inspection Service for the US Department of Agriculture.
Brian Jones, farmer, entrepreneur, and founder and Managing Director of Castell Howell Foods Ltd.
Baroness Kay Andrews, Deputy Speaker of the House of Lords, former Chair of English Heritage and an Aberystwyth alumna.
AU29514