Jeremy Bowen honoured as Fellow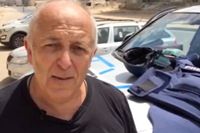 Jeremy Bowen in Gaza
Prominent Welsh journalist and television presenter, Jeremy Bowen has been honoured as Fellow of Aberystwyth University.
Born in Cardiff, and a graduate of UCL and John Hopkins University, Jeremy Bowen joined the BBC in 1984.
A war correspondent for much of his career, he became the BBC's Middle East correspondent in 1995 and was based in Jerusalem until 2000.
Since 2005 he has been the BBC's Middle East Editor and has reported from more than 70 countries, often in the line of fire. While reporting from Kosovo in 1999 he was robbed at gunpoint by bandits.
In July 2013, while reporting for the BBC on the protests in Egypt, he was shot in the head. He was recently one of the few journalists inside Syria reporting on the crisis.
Jeremy Bowen in currently reporting for the BBC from Gaza and was unable to attend the graduation ceremony in person.
In a video address, recorded shortly before the ceremony, he said;
"First of all, I want to say, I'm really sorry not to be able to come in person to pick up my fellowship, because I was really honoured to receive it and to be asked and I was looking forward to today. But it's sadly a defining fact of my working life that often I don't make it to things.
"I would like to offer my congratulations to everyone who is graduating today. Getting a university degree that you have earned by working hard and passing exams is a remarkable achievement and it is something I think you ought to be proud of for the rest of you life.
"Now, my university degrees that I got when I was at that educational age have helped me greatly in my working life as a journalist and foreign correspondent for the BBC. One of the things about coming to places like Gaza is that you are conscious of all the people who don't get educational opportunities.
"In this particular place there are people who do manage to do well at school and to go on and get a good education, in fact, one of my colleagues here, a Gazan colleague of mine has been saying that his niece just got 96% in a very important exam.
"But, sadly in this place and in so many other of the place that I get to in the Middle East, there are lots of people who don't get educational opportunities. So there is something really to saviour, because, as you all know, otherwise you wouldn't have worked this hard, by the time you get those opportunities, and by the time you get your education you really can benefit.
"So, I would like to thank you all again, very much for this honour, and I'd also like to apologise once again for being held up at work."
Jeremy Bowen was presented as Fellow by Dr Madeline Carr from the Department of International Politics on Tuesday 15 July.
Eleven Fellows are being honoured this week by Aberystwyth University during this year's Graduation ceremonies which take place at the University's Arts Centre from Monday 14 until Friday 18 July.
The title of Fellow is awarded to individuals who have a close association with Aberystwyth and the University, or who have made an outstanding contribution to professional or public life in Wales.
Also being honoured are:
D. Geraint Lewis, author, former Education and Children's Librarian for Dyfed and Assistant Director of Education at Ceredigion County Council.
Professor John Harries, renowned atmospheric physicist and Wales' first Chief Scientific Adviser.
Sir Michael Moritz, Cardiff-born venture capitalist and philanthropist.
Rhodri Meilir, actor and Aberystwyth graduate who recently appeared in the National Theatre of Wales' highly acclaimed Mametz.
Ed Thomas, playwright, director and producer, and founder member and creative director of TV production company Fiction Factory.
Rhod Gilbert, comedian and radio and TV presenter.
Professor Bonnie Buntain, Assistant Dean Professor of Public Health at the University of Calgary in Canada and former Chief Public Health Veterinarian at the Food Safety and Inspection Service for the US Department of Agriculture.
Dr John Sheehy, Emeritus Head of Applied Photosynthesis and Systems Modelling Laboratory at the International Rice Research Institute and an alumnus of Aberystwyth University.
Brian Jones, farmer, entrepreneur, and founder and Managing Director of Castell Howell Foods Ltd.
Baroness Kay Andrews, Deputy Speaker of the House of Lords, former Chair of English Heritage and an Aberystwyth alumna.
AU28914