From labourer to astrophysics graduate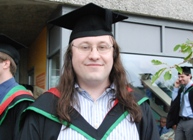 Ian Gimbeth
Ian Gimbeth from Church Stretton in Shropshire graduated from Aberystwyth University on Monday 14 July in Astrophysics, despite leaving school at the age of 16.
At 17 years of age, Ian went straight to work as a waiter and then as a labourer for six years before becoming a spray painter for an automated gates company near Birmingham where he spent the next nine years.
When the economic crisis struck in 2008, Ian was made redundant and was forced to move back into the family home in Church Stretton.
Determined to change the course of his life, Ian decided on following a career in teaching and after completing a year at Telford College studying an Access to Science course, he applied to study Astrophysics at Aberystwyth.
The 38-year-old explains, "Astrophysics was of real interest to me and so I did my research on the courses available. Even though I didn't have a maths or physics A level, Aberystwyth took a gamble on me because they could see that I was determined to succeed and turn my life around.
"I can't say that it's been easy! The first year was particularly hard for me because I had a great deal to catch up on, but it was definitely worth all the hard work."
On top of that, Ian commuted to Aberystwyth every day via car from Church Stretton five days a week to save on accommodation costs.
Graduating with a 2:1, he added, "Sacrifices have been made to pursue my dream, but I wouldn't change a thing because I was given a great opportunity. I was also fortunate to get an Excellence Scholarship from the University which I received over the three years and helped towards my travel costs."
Ian managed to finance himself by also using his redundancy money and by selling his pride and joy, his 1999 Westfield Seight sports car.
"It was hard to say goodbye to the Westfield as I've always had a passion for cars, but I needed something more economical for the Aberystwyth trip and downgraded to a 10-year-old diesel Jaguar X-Type", he explained.
"In future, I hope to get my hands on a Jaguar convertible XK but for another year at least, I'll have to stick with the old car because I'm staying on for another year at Aber to do a postgraduate certificate in education (PGCE).
"I could have studied a lot closer to home, but I wanted to repay the University for their belief in me and I look forward to taking that final a step to becoming a secondary school physics teacher."
Dr Xing Li, a lecturer in the Department of Mathematics and Physics, explains, "Ian's determination has finally paid off and I am delighted with his achievements.
"It could not have been easy for him commuting a 160 mile round trip on a daily basis and getting himself up to speed with some of the subjects, but he has passed with flying colours and I wish him well in his future career."
AU27514