Agricultural Shows: What's the impact?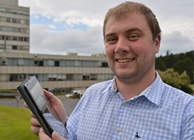 Postgraduate student Greg Thomas will launch his study "Agricultural Shows: Driving and Displaying Rural Change" at this year's Royal Welsh Agricultural Show.
Greg Thomas, a postgraduate researcher at Aberystwyth University, will be investigating this year's Royal Welsh Agricultural Show to see the impact it has on modern day rural Wales.
The 2014 Royal Welsh Agricultural Show will see the launch of an exciting PhD research project entitled "Agricultural Shows: Driving and Displaying Rural Change", and mark the start of two years of research into the role that the Royal Welsh Agricultural Show plays in modern day Wales.
Greg will be investigating the Show in depth and seeks to speak to anyone who has an interest in the Royal Welsh Show or has an interesting story to share.
Ahead of the research Greg said; "Agricultural shows are a vital part of any rural community and the Royal Welsh Show is arguably the most prestigious event of its kind in Europe. Despite many calls being made by geographers to look into the social and cultural aspects of agricultural shows, this is something that has never been done before. I hope to establish how the Royal Welsh Show has changed, its role in Wales today and why it continues to be such a great success".
Throughout the 2014 Royal Welsh Show (21st – 24th July) Greg will be based at the Aberystwyth University stand in the Education Pavilion (near the main ring) and welcomes visitors from all walks of life to come and share their stories and experiences of the Show.
In conjunction with the Royal Welsh Agricultural Society, Greg will be conducting a visitor survey; he invites people to come and visit the stand to fill in a postcard and enter the free prize draw for a chance to win tickets to next year's show.
Greg added; "It will be brilliant to see as many people at possible visit the stand to share some memories, to fill in the visitor survey or express an interest in my work. I am excited to be working closely with the Society on the project and hopefully the findings of this research will be beneficial to both of us and help the Society to develop into the future".
It is hoped that this research will establish the benefits that agricultural shows bring to rural areas, their wider role in rural change, the way agricultural shows bring together town and country and also their role in facilitating relations between farmers and the Welsh Government.
"I am pleased to support this initiative" said Steve Hughson, Royal Welsh Agricultural Society's Chief Executive. "Many people will have a view about the reasons for our great success as a show, but as we look to continually improve our events we must understand the facts that support these opinions. Greg's research will help to shape and influence the Show and continue to improve and develop not only our events but our wider role in society."
If anyone would like any further information on the project or to get in touch with Greg ahead of the Royal Welsh Agricultural Show then full details about the research and contact details can be found at www.showingagriculture.co.uk. The site also features Greg's blog which will be regularly updated throughout the research.
Greg Thomas is a postgraduate researcher in the Department of Geography and Earth Sciences at Aberystwyth University, one of the top 100 geography departments in the world.
Greg's research is funded by the Aberystwyth University Department of Geography and Earth Sciences Doctoral Career Develop Scheme.
He is from farming background, having being brought up near Builth Wells and has been a regular visitor to the Royal Welsh Show and other agricultural shows around the UK throughout his life.
AU27914