A Child's World – Next Steps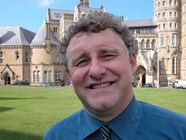 Conference organiser Professor Malcolm Thomas
An international conference aimed at enhancing collaborative working amongst professionals in child education, creating effective policy and sharing best practice in childhood studies opens today (25 June) at Aberystwyth University.
The conference, 'A Child's World – Next Steps', runs over three days – 25 to 27 June 2014. Full conference programme is available here.
Building on the success of the 2012 conference 'A Child's World: Working Together for a Better Future', the conference focuses on new concepts in Raising Standards, Curriculum Development, Safeguarding Children and sharing best practice in childhood studies within an international strategic dimension.
Organised by the University's School of Education and Lifelong Learning, the conference will include contributions by experts from around the world with more than 100 papers presented over the three days.
Countries represented will include Australia, Canada, USA, China, Malaysia, The Netherlands, Finland, France, South Africa, Nigeria, Saudi Arabia, Italy, Portugal, New Zealand, Greece, Ireland, Scotland, England and Wales.
Professor Malcolm Thomas, Director of the School of Education and Lifelong Learning at the University, will be launching a book covering contemporary issues in education developed from the discussion papers presented at the last conference at the event called A Child's World.
Professor Thomas explains; "This conference will draw on experts within the fields of education and childhood studies enabling the sharing and dissemination of good practice across professional practice and research.
"Not only are the conference themes pertinent to Wales but they are also important and applicable to other countries. It is hoped that this conference will act as a stimulus for further networking in research and professional practice on a global dimension."
Key speakers will include the Welsh Government's Minister for Education and Skills, Huw Lewis AM, Professor James Brad Hale from the University of Calgary in Canada, Professor Jari Lavonen from the University of Helsinki in Finland and Professor Nigel Thomas from the University of Central Lancashire.
Focused primarily at an educational research and professional audience, the findings will be relevant across a range of disciplines, including governmental policy formulation, social care, and operational delivery of public services.
The wide ranging scope of the conference will be highly applicable for international, national, regional and local government, along with education professionals and will be of direct interest to the general public.
AU25414