Law Librarian of the Year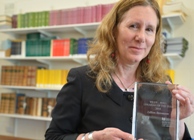 Lillian Stevenson
Lillian Stevenson, Subject Librarian for the Department of Law and Criminology, International Politics and Academic Services Manager at Aberystwyth University, has been awarded the Wildy BIALL (British and Irish Association of Law Librarians) Law Librarian of the Year Award 2014.
Lillian received the award from John Sinkins, Managing Director of Wildy & Sons Ltd, at the BIALL Annual Dinner which took place at the Royal Hall, Harrogate on Friday 13th June 2014.
Speaking afterwards, Lillian said; "It was a great honour to receive this award, particularly because it is an award nominated by members of BIALL, a professional organisation of around 700 members and because it recognises the pivotal role Law Librarians and all subject librarians can play within their own institution, within their own country and internationally."
Jas Breslin, President of BIALL, said; "This Award is our chance to reward an outstanding Law Librarian. This year's winner is an academic law librarian who has volunteered on both BIALL Committees and on Council. She has been an exemplary ambassador for BIALL on many occasions, and we thank her for this contribution to our organisation.
"Lillian's work in increasing knowledge of Welsh law resources deserved special mention as she initiated and produced a Globalex research guide for Wales, thereby raising the visibility of the Welsh legal system and legal research to librarians and researchers all around the world. This was followed up by an article on the Welsh Legal System in Legal Information Management last year. Her work in this area has brought the Welsh legal system to the forefront of the minds of BIALL members and researchers across the globe."
BIALL was formed in 1969 as an independent and self-supporting body to promote the better management of law libraries and legal information units in United Kingdom and the Republic of Ireland and to represent the interests of law librarians and legal information professionals, and other suppliers of legal literature and reference materials.
BIALL has around 700 members, both personal and institutional, who work in the courts, government departments, higher education, chambers, law firms, the professional bodies, commercial and other organisations with legal information units and in publishing and book supplying.
AU25714