Wales Book of the Year 2014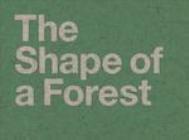 The Shape of a Forest by Jemma King
Jemma King, a current PhD student at Aberystwyth University, has been shortlisted for the Wales Book of the Year 2014 with her first poetry collection.
The Shape of a Forest is a poetry collection that ranges wildly in terms of subject matter. It is a survey of life and of human experience that spans centuries and continents.
Where there is light in the poetry, darkness is its close and haunting companion, and where there is life, death is biting its heels in raw and sensual imagery.
Tyler Keevil is another current PhD student at Aberystwyth who's second novel, The Drive, has been shortlisted in the English language fiction category. He's been nominated alongside former Aberystwyth PhD student Francesca Rhydderch's The Rice Paper Diaries and Tessa Hadley's Clever Girl.
The former student Meic Stephens, has been shortlisted in the Creative Non-Fiction category with his autobiography of Rhys Davies, A Writer's Life.
The Wales Book of the Year Award will be presented to the best Welsh and English-language works first published in 2013 in the fields of creative writing and literary criticism in three categories: Fiction and Creative Non-Fiction and Poetry.
The winner of the Poetry category will receive the Roland Mathias Prize for Poetry.
The 2014 Wales Book of the Year Award Ceremony will take place at Galeri Caernarfon on Thursday 10 July.
The Award is administered by Literature Wales.
The Wales Book of the Year 2014 Short List;

Roland Mathias Poetry Award Short List:
Barkin!, Mike Jenkins (Gwasg Carreg Gwalch)
The Shape of a Forest, Jemma L. King (Parthian Books)
Pink Mist, Owen Sheers (Faber and Faber)
Fiction Short List:
Clever Girl, Tessa Hadley (Jonathan Cape)
The Drive, Tyler Keevil (Myriad Editions)
The Rice Paper Diaries, Francesca Rhydderch (Seren)
Creative Non-Fiction Short List:
Rhys Davies: A Writer's Life, Meic Stephens (Parthian Books)
R. S. Thomas: Serial Obsessive, M. Wynn Thomas (University of Wales Press)
And Neither Have I Wings to Fly, Thelma Wheatley (Inanna Publications)
AU22414