3D printed robot comes to life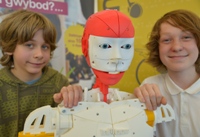 Aberystwyth Robotics Club members, Marley Plant (left) and Ferdia McKeogh, with the InMoov humanoid robot.
A robot whose body parts can be 'printed' using a 3D printer, is coming to life piece-by-piece, in a lab at Aberystwyth University.
Initiated by Technician Stephen Fearn from the Institute of Mathematics, Physics and Computer Science, InMoov will be the first full-size adult humanoid in West Wales and it will interact with the public for the first time at Beach Lab at the Bandstand in Aberystwyth on Saturday 21 June.
Beach Lab forms part of Aberystwyth University's community open day, Access All Areas, which takes place between 10am and 3pm on Saturday 21 June with activities also in the Old College, Aberystwyth Arts Centre and the University's Sports Centre.
Made of printed plastic body parts constructed out of Polylactide (PLA), the thermoplastic is pliable when heated and then hardens on cooling. For 3D printing the plastic is forced through the heated nozzle of a 3D printer which slowly builds the forms in thin layers upon layers of soft plastic strands. It's a magical process which is becoming much more readily available.
The printed pieces are snapped together incorporating micro-controllers (Arduinos) and motors (servos). The open-source robot incorporates off-the-shelf hardware therefore minimizing the cost to under a thousand pounds - great value compared to other research robots which cost over a quarter of a million pounds to purchase.
InMoov's joints move with the same flexibility as humans. Initially demonstrating simplistic movement, in time the robot will have vision tracking (its eyes will be able to follow objects) as well as sound recognition.
A Technician of 35 years at Aberystwyth University, Steve's interest in all things robotic started as a Robot Wars competitor in 2000 and since then he has realised many of his favorite science fiction characters such as Daleks and K9.
Steve's latest personal creation, R2D2, will also debut at Aberystwyth Bandstand.
Steve has an infectious enthusiasm for making and is an excellent role model for learners and this is recognised through recent accolades. He was highly commended for his contribution as Support Staff of the Year at Aberystwyth University in both 2013 and 2014. This year he received a special commendation at the national Higher Education Authority Science Technology Engineering and Maths (HEA STEM) Technician of the Year Awards.
Steve has been an invaluable supporter of the local hub of Technocamps based at Aberystwyth University, a European funded project aimed at inspiring young people to develop their skills in computing beyond the usual screen and keyboard.
The Aberystwyth Technocamps hub has met over 1,000 young people in the region, introducing 11 to 19 year olds to a range of topics in order to encourage them to become producers not just consumers of technology.
Running ARC (Aberystwyth Robotics Club) for keen young roboticists, a weekly after-school club for pupils who attend local secondary schools, Penweddig and Penglais, as well as those home-educated). From the Physics Department laboratory, Steve helps young people to build and program.
As a DIY technology enthusiast himself Steve is keen to communicate the ease with which young people can get their hands dirty with technology.
"It's not rocket science! Young people can construct and program robots and they love learning as they go. At the club they program InMoov as well as develop their own amazing bespoke creations that fly, float and glide. These include: a quadcopter; a bipod which is a two-legged robot; a fighting robot called Mini Infinity (who was a runner-up at the Robot Wars Championships earlier this year); a quad spider - you guessed it, a four-legged creature; a brush robot; and a rock crawler. All these creations have been designed and realised by the young people at the club. It's fantastic to watch them develop their skills, understanding and interest in computer science and engineering through following their own enquiry and having fun. We also are fortunate to have a lively group of volunteer staff including research and undergraduate students who are also keen to see young people learn as they create.
Robots including InMoov and R2D2 as well as other digital creations and 3D printers will be on show at Beach Lab, a free public event at Aberystwyth bandstand, promenade and beach from 11am to 3pm on Saturday 21st June.
The one-day event is open to all who are keen to experience technology in the open air with flying kites (with on-board cameras), land robots, wearable technology, Raspberry Pis, Arduinos, 3D printing, mobile apps and much more.
For more details on the Technocamps Beach Lab go to http://beachlab2014.eventbrite.co.uk or contact Technocamps office on 01970 622454 / aber@technocamps.com
InMoov
InMoov is a free (open source) downloadable 3D file with instruction which was created by a French modelmaker and sculptor Gael Langevin – http://www.inmoov.fr.
Technocamps is a £6 million project funded by Welsh Government ESF funding and is led by Swansea University in partnership with the Universities of Aberystwyth, Bangor and Glamorgan that provides daily and weekly sessions to young people aged 11-19 on a range of exciting computing-based topics such as programming, robotics, cryptography, animation and much more.
The £3.2bn Structural Funds programmes 2007-2013 in Wales include the Convergence programmes for West Wales and the Valleys (the successor to Objective 1), and the Regional Competitiveness and Employment programmes for East Wales. The programmes are delivered through the Welsh Assembly Government and are aimed at creating employment opportunities and boosting economic growth.
Access All Areas
Access All Areas is the Aberystwyth University's community open day which takes place between 10.30am and 3pm on Saturday 21 June. There's a full programme of activities at the Bandstand, in the Old College, Aberystwyth Arts Centre and the University's Sports Centre. Further information is available online at http://www.aber.ac.uk/en/events/access-all-areas/
AU22814