Student AberPrentices develop University accessibility app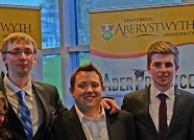 Team Explore
Thanks to a £15,000 grant from the Higher Education Academy (HEA), Aberystwyth University students will soon deliver an accessibility app to help students, staff and visitors navigate their way around the University easily, taking into account their disability needs.
Called AberPrentice, the HEA Computing Subject Centre funded multidisciplinary pilot project, saw a number of teams from the Department of Computer Science and the Institute of Management, Law and Information Science compete last week for the ultimate prize of designing and creating the app.
The winning team, called Team Explore, consisted of three students: Volodymyr Maksymchuk and Jonathan Field, both third year Computer Science students and Daniel Grindley, a second year Management and Business student.
Volodymyr, Jonathan and Daniel have will all receive 4 weeks' worth of paid work experience with Aberystwyth University Student Support to deliver the app and were also been awarded an iPad Air each.
Carolyn Parry, Director of Student Development and Employability at Aberystwyth and AberPrentice Project Lead, explains, "The exercise was designed to give students experience of multi-disciplinary working in a commercial context. Working in small teams with only three days to complete the task, they were asked to conduct a requirements analysis and pitch a professional standard tender document to a panel of external judges."
"We're aiming to go live with the app in the autumn to coincide with Fresher's week."
Richard Glover-Davies, Managing Director of GloverSure Ltd and chair of the AberPrentice judging panel added, "It was a great pleasure to be involved as a judge. The teams got an insight of what it is like in real workplace conditions having to deliver a proposal document and then pitch to the potential client. The teams produced outstanding work in such a short time."
Jonathan Field from Team Explore said, "We feel very privileged to have been chosen as winners of the AberPrentice 2014 and we are looking forward to having the opportunity to turn our ideas into reality for the benefit of our fellow students, staff and visitors to the University."
Talking about his new AberPrentices and the project, client lead John Harrington, Acting Manager Accessibility Services at Aberystwyth University, said: "We are delighted to have been involved in this project to help make our very hilly campus more accessible to students, staff and visitors who have accessibility difficulties.
"I was extremely impressed by the talent and commitment of all the teams in producing quality bids in such a short time scale. We are looking forward to working with Team Explore in turning their vision into an app that will benefit all visitors to Aberystwyth University."
Other awards handed out on the evening included two Best Programmer awards to Christopher Rogers and Jonathan Field, Best Presenter to Daniel Grindley and Most Innovative Bid to the overall winners, Team Explore.
AU22114