Is Al Qaeda winning?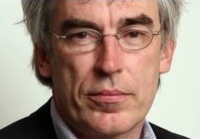 Owen Bennett-Jones
On Friday 30 May, the Centre for Intelligence and International Security Studies (CIISS) at Aberystwyth University will welcome freelance journalist and former BBC correspondent, Owen Bennett-Jones, to deliver its Annual Lecture.
The lecture entitled 'Is Al Qaeda winning?' will take place at 6pm in the Main Hall of the International Politics Building. A warm welcome is extended to all.
Owen Bennett-Jones, who hosts Newshour on the BBC World Service, has reported for the BBC from over 60 countries, and been a resident foreign correspondent in Islamabad, Bucharest, Hanoi, Beirut and Geneva.
He has written for several British newspapers, including The Guardian, Financial Times and The Independent, as well as the London Review of Books.  His history book Pakistan: Eye of the Storm, went into a third edition in 2010. Last year, Owen Bennett-Jones published his first fiction book, Target Britain, a thriller set amid the war on terror.
In 2008 he was Sony News Journalist of The Year and in 2009 the Commonwealth Journalist of The Year. In 2012 he was Ferris Professor of Journalism at Princeton University.
Dr R Gerald Hughes, Director of the CIISS, commented; "We are delighted that Owen Bennett-Jones has accepted our invitation to deliver this year's annual lecture. This is the tenth lecture in the series and, in delivering the CIISS Annual Lecture, Owen Bennett-Jones joins a list of luminaries that includes Sir Stephen Lander, Professor Keith Jeffery, Sir Michael Quinlan, Sir David Omand, Baroness Eliza Manningham-Buller, Lord (Robin) Butler, Lord (George) Robertson and Lord (Peter) Hennessy."
The CIISS is based in the Department of International Politics and was established in 2004 to facilitate and promote the study of intelligence and international security by acting as a nucleus for research in the area. The creation of the centre built upon over a decade of teaching in intelligence studies in the department at the undergraduate and postgraduate level.
AU23214