Aber870 Staff Challenge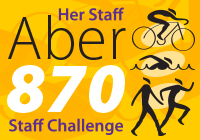 Aber870 Staff Challenge
To celebrate the second anniversary of the opening of the Wales Coast Path, staff at Aberystwyth University are being invited to sign up to the Aber870 Challenge, raising money for Wales Air Ambulance, the Vice-Chancellor's Charity of the year for 2013/14.
Staff can commit to either swimming, cycling, walking or running a distance of their choice, which collectively will equal the length of the Welsh coast, some 870 miles.
Speaking about the challenge, Jackie Sayce, one of the co-ordinators says: "We are asking colleagues to take up the Aber870 challenge and support Wales Air Ambulance. Our fundraising target is £870, and we hope that this virtual trip around the coastline will help us raise money for this very worthy charity."
Now in its second year, the Vice-Chancellor's Charity of the Year appeal seeks to raise vital funds for a worthy cause. Wales Air Ambulance is an all-Wales charity providing crucial emergency air cover for those who face life-threatening illness or injuries.
Wales Air Ambulance has carried out over 17,000 missions to date since its launch on St David's Day 2001 and relies entirely on public support for its funding.
The charity needs to raise £6 million every year to operate the service with each mission on average costing £1,500.
Aberystwyth University staff can participate through three simple actions:
Commit to swimming, running, walking or cycling a distance of their choice
Sign up to Aber870 by sending an email to aber870@aber.ac.uk, and confirm your target distance;
Commit to raising as much money as possible for the Wales Air Ambulance by joining the Aber870 team Just Giving page at: http://www.justgiving.com/AberUni-PrifAber1. The fundraising target is £870
Keep up with Aber870 Challenge by following @Aber870 on twitter.
The launch of Aber870 also coincides with Love the Welsh Coast campaign, run in partnership with Natural Resources Wales. The campaign is a month long programme of walks and other events to highlight the Wales Coast Path and attract visitors to the coast. Information about the campaign can be found on the Wales Coast Path website or by using the hashtag #lovethewelshcoast on Twitter.
AU19614