Aber student scoops KESS award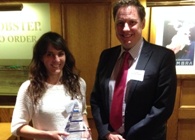 Ally Evans receives her award from Gary Reed, Director of Research, Business and Innovation at Aberystwyth University.
Aberystwyth University KESS (Knowledge Economy Skills Scholarship) student Ally Evans won the award for the best research presentation at the annual KESS awards evening which was held in Aberystwyth on Wednesday 14 May.
The evening saw students, academics and companies from across Wales to take part in a research presentation challenge where each participant outlined their PhD/MRes KESS project in a 3 minute presentation.
KESS scholars from Aberystwyth University, Bangor University, Cardiff Metropolitan University, Cardiff University, Swansea University and the University of South Wales battled it out to win the prestigious KESS award.
The topics covered on the evening were:
Jennifer Marshall – "Capacity building and language skills transfer in the Welsh digital economy"
Jennifer Edwards – "Screening of a plant-derived natural product library for anthelmintic properties"
Sophie Mitchell – "A Multi-Component Behaviour Change Programme to Increase Physical Activity in Primary School Children"
Cate Williams – "The effects of rumen bacterial lipases on ruminal lipid metabolism"
Christopher Phillips – "Immunotherapy for Severe C. difficile Infection"
Raha Rahbari – "Drug-loaded Microspheres in Conjugation with Hydrogel Patches for Treatment of Psoriasis"
Phil Harper – "Novel Anticancer Prodrugs"
Ceri Ann Jones – "Testing of a Mattress Design on Sleep Quality of those with Low Back Problems"
Amy Roberts-Mitchell – "A Controlled Evaluation of a Food Dudes Healthy Eating Programme for children in Special Schools"
Ally Evans – "Coastal Defence Structures as Surrogate Habitats for Natural Rocky Shores"
All of the student's posters and PowerPoint presentations are available on the KESS website, http://www.higherskillswales.co.uk/kess/.
Videos from the event are to follow in the coming weeks and will be available on the KESS Youtube Channel KESS Bangor
Following a rigorous voting process, the winner of the 2014 KESS award was Ally Evans of Aberystwyth University.
On winning the award, Ally said; "It was really great to have the opportunity to promote our research to a roomful of people from industry and academia. I'm thrilled that our work stood out amongst such great research going on around Wales. The award will hopefully raise the profile of our work to those involved in marine conservation management and encourage them to adopt our findings for future coastal developments"
Dr Penny Dowdney, KESS Project Manager, said; "The standard of the research in the presentations this year has been exceptional, demonstrating the need for industry orientated collaborative research projects at MRes and PhD level, driving forward and developing the knowledge economy in Wales in a truly holistic manner".
The KESS project enables students, academics and companies to work collaboratively on a research project that is tailored to the company's needs.
Knowledge Economy Skills Scholarships (KESS) is a pan-Wales higher level skills initiative led by Bangor University on behalf of the HE sector in Wales. It is part funded by the Welsh Government's European Social Fund (ESF) convergence programme for West Wales and the Valleys.
For more information and examples of KESS projects please see the KESS website http://www.higherskillswales.co.uk/kess/.
AU22514