New hourly rail service welcomed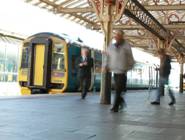 Aberystwyth station
The announcement today (Tuesday 8 April 2014) by Welsh Government Economy, Science and Transport Minister Edwina Hart of new peak hourly train services between Aberystwyth and Shrewsbury has been welcomed by Aberystwyth University Vice-Chancellor, Professor April McMahon.
Professor McMahon said; "This is excellent news for everyone concerned with Aberystwyth and the surrounding area. The line from Aberystwyth to Shrewsbury provides a vital transport link for the many thousands of students from all parts of the UK and particularly the English Midlands, who chose to study at Aberystwyth University.
"Aberystwyth University is an international institution attracting students from more than 90 countries and is regularly visited by leading academics from all corners of the world. A frequent and reliable train service is essential for the University as it strives to build on its success in an increasingly competitive world.
"The Welsh Government is to be congratulated on its commitment to services on the line. I would also like to take the opportunity of thanking the members of the Shrewsbury to Aberystwyth Railway Liaison Committee, which includes members of the University's Students Union, and whose evidence of the potential demand for these new services played such a significant role in securing the investment announced today. It was a real pleasure to work alongside our students in making the case for these additional services."
The announcement means additional return services will operate between Aberystwyth and Shrewsbury from Mondays to Saturdays, with hourly services for peak morning and afternoon times.
AU14914