Robert Peston –what makes Aber such a special place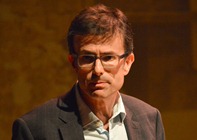 Robert Peston
The award-winning BBC's Economics Editor and Honorary Fellow of Aberystwyth University, Robert Peston speaks of his love for Aberystwyth, following his talk on the global financial crisis at Aberystwyth University last night (Thursday 3 April).
Mr Peston's lecture, entitled "Have we fixed the mess – are the rich economies of the West mended" was delivered to a packed Great Hall at Aberystwyth Arts Centre and forms part of the University's Gregynog Public Lecture Series.
Widely acclaimed for his work during the Northern Rock banking crisis, Robert Peston has won numerous awards for his journalism and was presented as Fellow of Aberystwyth University in July 2011. He is also founder of the education charity, Speakers for Schools.
Get to know Aberystwyth this weekend
Tomorrow, Saturday 5 April, Aberystwyth University is delighted to invite prospective students and their supporters to its Open Day. Hundreds of visitors from across the country are expected to attend and get to know Aber, one the top 3 places in the world for student experience.
Aberystwyth is a well-established university with a long tradition of academic excellence, but it is also very forward looking. It's small enough to be friendly and to allow contact across departments, but big enough to have a wide range of study programmes in the Sciences, the Arts and the Social Sciences, in professional and vocational subjects.
Aber itself is a vibrant university town in a stunning coastal location, with a dynamic social and cultural life centred around the University.
Professor John Grattan, Pro Vice-Chancellor for student experience says:
"Visiting a university's Open Day is the only certain way that you will know if your short-listed university is right for you. Aberystwyth is a great place to be a student, and on our Open Day you can see for yourself the superb location and our excellent academic, social and sporting facilities.
"Our staff and students will be very happy to talk to you about the many advantages of studying at and living in Aberystwyth, and we promise you a warm and genuine welcome to our University and community. Robert Peston is a fan so come and see for yourself!"
You can still register for the open day tomorrow by following the link here: http://www.aber.ac.uk/en/open-days/