Fellow honoured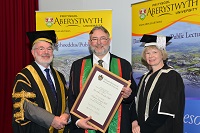 Dr Glyn Rowlands BSc PhD, Vice-President, Professor Douglas Kell CBE, Fellow and Professor April McMahon, Vice-Chancellor
Professor Douglas Kell CBE returned to Aberystwyth University today (Friday 28 February) to be conferred with a Fellowship of the University, and to give a public lecture on how science will save the planet.
Professor Kell began his career as a postdoctoral research fellow at Aberystwyth University. An accomplished and award winning academic, Professor Kell was appointed Chief Executive of the Biotechnology and Biological Sciences Research Council (BBSRC) in 2008. He retired from this role last year and is now Professor of Bioanalytical Science at the University of Manchester.
Professor Kell's lecture, titled How science will save the planet: what research is and how it is funded, was held at the International Politics Building and followed with a question and answer session hosted by Professor Wayne Powell, Director of IBERS (The Institute of Biological, Environmental and Rural Sciences).
Concluding the afternoon's visit, Professor Powell presented him to the University's Vice-President, Dr Glyn Rowlands, for conferral of the Fellowship.
Professor Kell accepted the offer of a Fellowship in July 2013 but was unable to attend the graduation ceremonies due to longstanding engagements.
Professor April McMahon, Vice-Chancellor of Aberystwyth University commented: "The title of Fellow is the highest possible honour awarded by the University and recognises distinguished individuals who have a close association with Aberystwyth, or who have made an outstanding contribution to professional or public life in Wales.
"It was wonderful to welcome Doug back to Aberystwyth and be able to publicly recognise his sustained and excellent contribution to science. We wish him all the best with his future research and endeavours."
Professor Wayne Powell added, "Professor Kell has made a major contribution to science both as a practicing researcher and in a national leadership role. His tenure as CEO of the BBSRC was highly influential, shaping the Excellence With Impact agenda within the UK and across the Research Councils. He is also an excellent ambassador for Aberystwyth University and the locality and it is great to see Douglas returning to his academic roots."
An acclaimed academic, Professor Kell began his career at the University College of Wales, Aberystwyth in 1983 where he was promoted to Personal Chair. From 1997-2002 he was Director of Research at the Institute of Biological Sciences.
His scientific achievements include the development and exploitation of many novel analytical methods. Aber Instruments, a company he co-founded, received the Queen's Award for Export Achievement in 1998. He has been a pioneer in a variety of areas of computational biology and experimental metabolomics. Professor Kell also contributed to the discovery of the first bacterial cytokine which is presently on trial as part of a vaccine against tuberculosis.
AU9414