Firefly Children's Book Prize 2014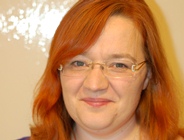 Dr Sarah Taylor
Dr Sarah Taylor from Aberystwyth University has won this year's Firefly Children's Book Prize 2014 with a 21st century take on a rather grumpy King Arthur and his squabbling knights.
The book, named Arthur and Me, delighted the judges with its wit and comic timing. It is aimed at7-9 year olds and will be published with Firefly in the autumn
"We asked for a contemporary story and we got King Arthur, but Sarah Todd Taylor's humorous writing and lively present-day characters completely won us over. This is a great story and we would be delighted to publish it," said one of the judges, Penny Thomas.
The prize was offered for an original children's story for 7-9 year olds set in modern-day Wales by a first-time children's author, and was judged anonymously. Sarah also won £500, a week writer's retreat at Chawton House and editorial advice from Firefly Press.
Dr Taylor, Head of Strategic Development in the University's Planning Office, explains, "I'm utterly delighted to have been chosen. I had immense fun writing the story and am thrilled to think that it will be in print. Aberystwyth is a great place to be if you are a writer. There is a thriving writing community and lots of opportunities to get involved in projects that help you develop both your writing style and your confidence."
Dr Taylor moved to Aberystwyth from Yorkshire at the age of eight. She began short story writing while at university and has been in five anthologies by the Welsh Women's Press, Honno.
Her work has also appeared in the Western Mail and on BBC Radio 5 and she has taken part in projects with Aberystwyth Arts Centre Writing for Performance Group. When not writing she can be found singing opera with AberOpera.
AU9214