Celebrating St David's Day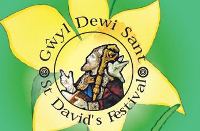 Aberystwyth University is holding a series of events between Friday 28 February and Friday 7 March to celebrate Wales' Patron Saint, St David.
The programme starts with the annual St David's Day service at the University's chapel which this year takes place this year on Friday 28 February and led by Dr Owain Roberts.
On Wednesday 5 March historian Dr Russell Davies will give a light hearted talk about St David's history and contribution to Welsh history.
"Although St David is most famous for his contribution to religion, it is also worth noting that he was responsible for some of the unique superstitions of Wales," said Dr Davies.
"According to the rumor, when David died, he asked God to allow the Welsh to have foresight of their death. That is the origin of the belief in the 'corpse candle', of a ghostly light which is often seen to warn of a death in the area.
"Miracles are another phenomenon associated with the Saints. The most famous associated with David was when he created a hill in Llanddewi Brefi so that the crowd that had gathered could see and hear him.
"We'll also have an opportunity to consider David's message for us to "do the little things", he added.
The day itself – Saturday 1st of March will be marked with a St David's Day parade in Aberystwyth town centre and which begins at the Town Clock at 1.00p.m.
On Monday 3rd of March, there will be an opportunity to see Pen Talar, the Welsh language tv series which follows the epic journey of two friends and the story of the Welsh nation over half a century, from the early 60s. Starring Richard Harrington, the 9 part series will be shown (with English subtitles) at 'The Picture House' at the Students' Union.
On Tuesday 4 March UMCA (Undeb Myfyrwyr Cymraeg Aberystwyth) host a St David's Day gig showcasing young Welsh bands at the Students' Union.
On Thursday 6th there will be an opportunity to meet for coffee and enjoy a conversation in Welsh at the Arts Centre, and the week's celebrations will conclude with an evening of cawl and music on Friday 7 March at the Students' Union.
A special selection of Welsh food and delicacies will also be available during the week in the restaurants and cafes across Penglais Campus.
AU1514