Dr Huw Morgan receives award in memory of young scholar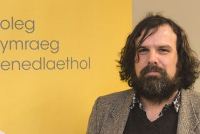 Dr Huw Morgan
The Coleg Cymraeg Cenedlaethol has established an award in memory of Dr Eilir Hedd Morgan, lecturer at Bangor University under the auspices of the Coleg who was killed in an accident last year.
The annual award will be presented to an individual under forty years of age who has made a significant contribution to science through the medium of Welsh.
Dr Huw Morgan, lecturer in Physics at Aberystwyth University will receive the award this year during the Coleg's Annual Congregation to be held in Carmarthen on Tuesday 18 February 2014.
Born and bred in Llanbrynmair, mid Wales, Huw's main expertise is in the field of astronomy and the solar system. He worked as a Scientific Researcher at Hawaii University before being appointed to a lecturing post funded by the Coleg at Aberystwyth University in 2011.
Dr Huw Morgan said, ''I consider accepting this award to be a great honour. I am very grateful to Eilir's Family for establishing the award as it is an important step in encouraging young Welsh speakers to embark upon a career in science. I would also like to thank the Coleg Cymraeg for providing me with an opportunity to pursue a career in science and to teach young people through the medium of Welsh.''
During the congregation, four prominent figures will be honoured by the Coleg as a way of recognising their vital contribution to Welsh medium higher education over many years.
Former Head of Linguistic Studies at Morgannwg University, Cennard Davies will receive an honorary degree for his significant contribution to Welsh for Adults and Welsh education in the valleys and beyond.
Professor Elan Closs Stephens has promoted studying in Welsh throughout her entire academic career. She was the first to be appointed to a Welsh medium lecturing post at Aberystwyth University's Department of Film and Television and subsequently during her time as Head of Department she suceeded in increasing the provision available.
Dr Alison Allan worked with Higher Education Funding Council for Wales for over twenty years where she was the primary contact with universities over matters associated with Welsh medium education. She played a vital part in the process that led to the establishment of the Coleg Cymraeg Cenedlaethol.
Dr Cen Williams, first Director of Canolfan Bedwyr at Bangor University will also be made a fellow. During his period on secondment with the Welsh Education Development Unit with the University of Wales, he was responsible for establishing several projects which exist under the auspices of Coleg today including promoting co-operative provision and subject panels that provide Welsh medium academics with an opportunity to discuss and plan together.
Dr Hefin Jones, Dean of the Coleg Cymraeg Cenedlaethol said, ''I will have great pleasure in honouring these four who have contributed heavily to Welsh medium education in their own fields at our Congregation this year. I look forward to honouring them as well as taking advantage of the opportunity to congratulate those students who have secured funding by the Coleg.''
AU6614