Students return to Seafront Residences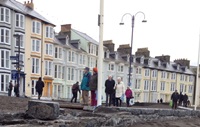 Aberystwyth seafront
Aberystwyth University students who were relocated from Seafront Residences because of the poor weather conditions can return to their halls today, Monday 3 February.
Around 600 students were relocated on Friday 31 January as a precaution, ahead of the high tides and stormy weather that had been predicted for the weekend.
The 450 students living in University Seafront Residences and the 150 living in private sector accommodation on the seafront in Aberystwyth were offered alternative University accommodation and meals or tickets to travel home or another part of the UK until the weather improved.
Following Saturday evening's high tide and stormy weather University maintenance staff were on site on Sunday to repair minor damage to basement areas. However, none of the student bedrooms were affected.
Further safety checks to Seafront Residences have been done today in advance of the students' return.
Rebecca Davies Pro Vice-Chancellor for Student and Staff Services said; "We are very pleased to be able to let our students return to the Seafront Residences today and we are very grateful to them for being so understanding over the past four days."
"Deciding to ask everyone to relocate late last week was a difficult call as it is never easy to accurately predict the impact of tides and stormy weather. However, the safety of our students and staff is paramount.
"During the weekend, the University was notified that immediate action was required due to tidal flooding which would have required the evacuation of Seafront Residence students to a place of safety on at least four separate occasions over the weekend; Saturday morning, Saturday evening, Sunday evening and Monday morning. This would have resulted in the repeated evacuation of students. For this reason we are convinced that we made the right decision."
"Once again, I would like to thank those members of staff who worked over the weekend to ensure that everyone was safe, warm and fed, and to colleagues in Ceredigion County Council and Natural Resources Wales for their co-operation."
All teaching activities will resume as normal on Tuesday 4 February.
AU3814