Psychological effects of cancer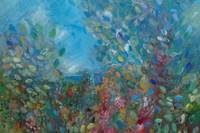 The exhibition will feature this work by John Edwards
An art exhibition which has been inspired by patients' experiences of penile cancer will be on show at Aberystwyth University on Tuesday 23rd and Wednesday 24th April.
Aberystwyth will also welcome Dr Peter Branney, a Senior Lecturer in Social Psychology at Leeds Metropolitan University, to talk about the research that is being done which investigates the experiences of men following surgery for penile cancer.
The exhibition held in the foyer at Penbryn 5, home of the Psychology Department at Aberystwyth University, with Dr Branney's talk being held at 10am on Tuesday 23 April in room A6 in the Llandinam Building.
Dr Branney leads the Patients' Experiences of Penile Cancer (PEPC) research group, which includes Professor Kate Bullen Director of the Institute of Human Sciences at Aberystwyth.
The group looks into the psychological effects of penile cancer on masculinity and has been used in the development of a new website called www.healthtalkonline.org. The award-winning website features a new section on the rarely discussed topic of penile cancer, of which 400-600 new cases are diagnosed in the UK each year.
Professor Kate Bullen explains, "The exhibition will allow the public to explore artwork along with quotes about patients' experiences of penile cancer.
"As a group, we are making great progress in understanding what men go through at this difficult time. Cancer is a challenging experience at any time but particularly so when the cancer is unusual, exactly the case with penile cancer.

"Men who have the disease often say they would like to hear about other people's experiences as this helps to reduce feelings of isolation, however, this is problematic if there are few patients with the condition.

"We know from research that men can find it difficult to talk about their feelings and that in a rural setting such as Aberystwyth, access to someone to talk to can be particularly difficult. This is where the health talk website will be invaluable because sometimes it's easier to talk via the web and it will enable more to be in control and less vulnerable at a difficult time of their lives."
AU6213