Best young novelists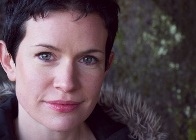 Sarah Hall Credit: Richard Thwaites
Aberystwyth University alumna, Sarah Hall, who graduated in English and Art History in 1995, has been named as one of the twenty best young British novelists in Granta magazine's once-in-a-decade list.
Sarah Hall has written a number of prize-winning novels such as Haweswater (2003), The Electric Michelangelo (2004), and The Carhullan Army (2007), which was listed as one of The Times 100 Best Books of the Decade.  Her most recent novel How to Paint a Dead Man (2009) was longlisted for the Man Booker Prize. In 2011 she published her first collection of short stories, titled The Beautiful Indifference. Her work has been translated into more than a dozen languages.
Commenting on her time at the University, Sarah Hall said: "I think the English Department was instrumental in setting me on the road to becoming a writer. I took my first creative writing course at Aberystwyth, and it really lit a fire in my belly, and gave me the confidence to keep going. I have such fond memories of the place, and I'm very grateful to those lecturers who were so passionate and dynamic, and who instilled a lasting enjoyment of literature and writing in me."
For three consecutive decades, the Granta Best of Young British Novelists list has showcased an array of talented writers on the British literary scene.

AU14013