Ageing society debate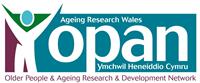 Logo
With one-in-six of the UK population currently over 65 years old and predicted to be one-in-four by 2050, the rapidly ageing population has sparked a debate to be held at Aberystwyth University on what can be done to improve the quality of life of older people.
The joint event, hosted by the Older People & Ageing Research & Development Network (OPAN Cymru) and the University will aim to develop research ideas of relevance to older people and ageing issues in Wales on Thursday 25th April.
The one-day forum will look to combine researchers, older people and their representatives, practitioners and policy makers to improve the quality of life of older people living in Wales.
Professor Kate Bullen, Director of the Institute of Human Sciences at Aberystwyth, explains, "Ageing is a complex process with no single discipline answering all the questions on ageing. Therefore, we aim to bring together different disciplines and sectors to build on research expertise, experience and strengths to realise the opportunities for enhanced collaborative working.
"So much work needs to be done to improve the quality of life of older people, especially those living in rural areas.
"At Aberystwyth University we are committed to engaging in high quality research and we wish to emphasise the economic and social impact of research, specifically with regard to our ageing population."
Central to the research aims of both OPAN and Aberystwyth University is the inclusion of older people in shaping the research agenda for the users of those services needed by the older population.
OPAN is dedicated to improving the lives of older people in Wales through the integration of research, policy and practice. It facilitates collaborative research projects in order to raise the profile of research into ageing.
OPAN Cymru is funded by the National Institute for Health and Social Care Research (NISCHR).
The event is being held at Aberystwyth University on Thursday 25th April in the International Politics Building on the Penglais Campus from 10.30am - 3.30pm.
If you care to find out more about the forum or would like to attend, please contact Molly Banning on M.Banning@swansea.ac.uk or 01792 295687.
Further information about OPAN is available here http://www.opanwales.org.uk/.

AU13013