Debating on the world stage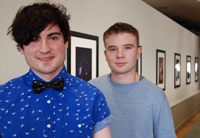 Left to Right: Debaters Roberto Sarrionandia and Ollie Newman
Members of Aberystwyth University's Debating Society took some notable scalps at the World Universities Debating Championships which were held recently at the Technische Universität Berlin.
Debaters Roberto Sarrionandia (3rd year Computer Science) and Ollie Newlan (2nd year International Politics) found themselves duelling against teams from some of the world's leading academic institutions and defeating the likes of the London School of Economics and Harvard as they argued their way into the last 16.
They were joined for the event by Samuel Vincent (3rd year History) who dutifully performed the role of judge.
As the dust settled on nine days of intense debate, the Aberystwyth duo found themselves in 11th place over all, having progressed further in the competition than big names such as Yale, Princeton, Cambridge B, Durham, University College Cork, Stanford, Bristol, and McGill University.
And, of the 387 teams that started out on the 27 of December, it was Monash University from Australia that emerged victorious.
Speaking after returning to Aberystwyth, Roberto, who attended Greenhill School in Tenby said: "This was an amazing experience. Many of the teams had many years of experience and were taking things very seriously. Myself, I only started debating after arriving at Aberystwyth and being approached at Freshers Fair to join the Debating Society. After a stuttering start I now practice and compete regularly and find it very stimulating."
Ollie is from South West London and attended Heathland School. He was introduced to debating as part of the scheme Debate Mate, where experienced debaters teach their skills to children in inner-city schools.
"To begin with it was nerve wracking" said Ollie, "and then we realised we were doing quite well. We knew it was a long shot but as underdogs we developed a bit of a following. It was an incredibly competitive environment and the American teams had paid coaches and prepared in great detail. Monash had their own debate coach and even publish a peer reviewed debating journal."
Four teams take part in every debate, two in favour and two against the motion, with two teams progressing to the next round. Roberto and Ollie found themselves discussing Egypt and whether development aid should be contingent on democratic improvements and whether all marketing and advertisements should be banned.
After an initial 15 minutes of preparation, each speaker is called upon to speak for 7 minutes with performances scored by a panel of judges.
In the octofinal (last 16) the Aberystwyth team faced the LSE, Harvard and Auckland, and then faced University College Dublin, Oxford and Auckland in the quarter finals.
Flushed with their success in Berlin, Roberto and Ollie are now looking forward to representing Wales at the John Smith International Mace Final which will be held in Edinburgh in mid-April.
And after that, they are looking forward to welcoming teams from across the UK to Aberystwyth on the last weekend of April for the Bailey Gifford Aberystwyth Open. The venue for the day's debates will be the Old College, with the final held at a restaurant on the top of Constitution Hill.
For more information about the Debating Society and the Aberystwyth Open visit the society's website http://aberdebating.org/.

AU3413