Celebrating the Chinese New Year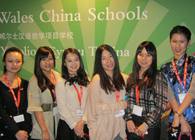 University students enjoying the celebrations
Last week, 11 Chinese students from Aberystwyth University made the journey down to Cardiff Bay to attend a Chinese New Year reception in the Senedd at the National Assembly for Wales.
The event, hosted by the First Minister of Wales Rt Hon Carwyn Jones AM, also saw the Chinese Ambassador to the UK in attendance, Liu Xiaoming, and the evening consisted of performances and speeches.
Ranging from first and second year students, seven of them are studying postgraduate courses in management and intelligent systems and the remaining four are undergraduates studying accounting and business courses.
Lasting for two hours between 6-8pm, the event provided the students with a unique opportunity to network and socialise with Assembly Members, business men and women as well as students from other Universities across Wales.
Aberystwyth University's International Office coordinated the visit and the students that attended were Tianxiao ZHANG, Jinglei ZHANG, Lu CHENG, Yuanxu LIU, Jingyu ZHANG, Yiran SUN, Ke HUANG, Tianhua CHEN, Wenfeng TU, Lingjie CAI and Shangshuo ZHANG.
The Chinese New Year this year was on Sunday 10 February, which is the Year of the Snake.
Also known as the Spring Festival, the Chinese New Year is celebrated usually by eating special food, setting off fireworks, visiting friends and relatives, delivering red packages as good wishes and hanging lanterns.
AU5213