Animal behaviour election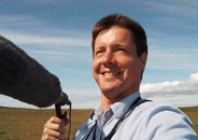 Dr Rupert Marshall
Aberystwyth University Animal Behaviour lecturer Dr Rupert Marshall has been elected to the governing Council of the international Association for the Study of Animal Behaviour (ASAB).
Dr Marshall, a lecture at the University's Institute of Biological, Environmental and Rural Sciences (IBERS), is known for his work on bird song, is a regular contributor to radio and tv, including the BBC's The One Show and Springwatch.

Most recently he appeared on the Antiques Roadshow, bringing along George the kakapo parrot from the University's zoology museum.
"I am delighted and honoured to have been elected to serve on this prestigious body" said Dr Marshall. "Aberystwyth is a great place for doing and teaching behavioural research - our students love studying here and often help out with our research projects".
Indeed, graduate Victoria Franks's project on leadership was recently published in the ASAB journal, Animal Behaviour after studying with Dr Marshall.
ASAB is the premiere international learnèd society for the study of animal behaviour. Its members are widely consulted by Government and natural history TV programme makers. It also has an active educational programme and plays a central role in welfare issues, including the industry-standard for ethical use of animals in behavioural research.
"From conservation and welfare to neural networks and robotics, behaviour is a fundamental science that impacts on all areas of our lives" explains Dr Marshall: "Crowd control, conflict resolution, badger culling, even aircraft strikes by birds: all have a basis in the science of animal behaviour".
Dr Rupert Marshall
Dr Rupert Marshall is Lecturer in Animal Behaviour at Aberystwyth University's Institute for Biological, Environmental & Rural Sciences (IBERS) and a member of the Aquatic, Behavioural & Evolutionary Biology research group ABEB. His research centres around animal communication and signal evolution. He coordinates Aberystwyth's degree scheme in Animal Behaviour (UCAS code C120)
About the ASAB Journal
Animal Behaviour is the leading international, peer-reviewed journal in its field. Published by ASAB (Association for the Study of Animal Behaviour) since 1953, it covers all aspects of behavioural biology.

AU2213