Environmental leadership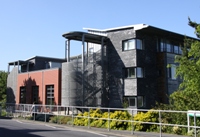 Department of International Politics
On Friday the 8th of February, the International Politics Department at Aberystwyth University will welcome speakers from across Wales to discuss the nation's leadership role in international environmental politics.
The conference entitled Wales Environmental Leadership Conference, will take place in the Main Hall of the International Politics Building, with a public event to take place at 6.00 pm.
The aim of this event is to explore Wales' place in international environmental politics and to identify how, through its environmental practices, Wales can strengthen its position in generating an international response to shared environmental problems.
To discuss these issues and provide insight into recent environmental activities, the panel at 6.00 pm will host:
• Peter Davies, the Sustainable Futures Commissioner and Chair of Climate Change Commission for Wales;
•        Matthew Quinn, Director of Department for the Environment, Sustainability and Housing at the Welsh Government;
•        Professor Mike Hambrey. Institutional Director for the Climate Change Consortium of Wales (C3W) at Aberystwyth University, and
•        Michael Butterfield (Director for Llangattock Green Valleys.
The event will be chaired by: Professor Lynda Warren, Non-Executive Director for Natural Resources Wales.
The panellists, covering international negotiating processes, domestic policy, academic practice and community activism will provide an overview of Wales' position in international environmental negotiations and the domestic action and leading research underpinning this.

Looking beyond the image of Wales as an environmental leader, speakers will identify the environmental policy and everyday action required to build an environmentally sound and sustainable nation and to highlight how broader participation within and across policy, research and local communities is necessary to facilitate Wales' leadership role.
Follow the conference at http://walesenvironmentalleader.wordpress.com/ and on twitter #WalesGreenLeader, Hannah Hughes (@hanshare) and Katharina Höne (@kathone).
Environmental Politics Research Group
The Environmental Politics Research Group was established within the Department of International Politics in 2008. It provides a forum for researchers across Aberystwyth University to share research material and host guest speakers in environmental politics and related subjects.
The Institute of Welsh Politics
The Institute of Welsh Politics is an independent and non-partisan research centre established within the Department of International Politics at Aberystwyth University in 1997, the oldest department of its kind in the world.  It was established to promote the academic study and analysis of all aspects of Welsh politics and the IWP is now internationally recognised as an important research centre on political regionalism and sub-state nationalism.
AU5313