Preferred bidder for new accommodation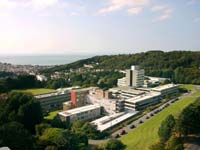 Penglais Campus
Aberystwyth University is delighted to announce that Balfour Beatty has been selected as the preferred bidder for the development of its new student accommodation.
The circa £45 million pound scheme will be located on Penglais Farm, on land immediately behind the existing award winning Pentre Jane Morgan student village and within walking distance to the University's Penglais campus.
The new development will provide en-suite accommodation for 1000 students and include 100 studio flats. The accommodation includes enhanced learning and communal zones, in keeping with Aberystwyth's progressive approach; the first students are expected to take up residence in September 2014.
James Wallace, Director of Campus Services at Aberystwyth University commented: "We are pleased with the progress made with the competitive dialogue process. We expect our new residences to be handed over to us in 2014 and have students living in this fantastic new purpose-built accommodation, which will be an important step towards achieving the University's strategic goals".