Aber students relive the Trefechan Bridge protest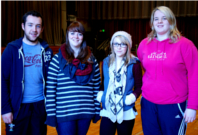 Jacob Ellis, Bethan Walkling, Catrin Faulknall ac Alaw Gwyn Rossington
Students from Aberystwyth joined the cast of Y Bont (The Bridge), the National Theatre of Wales' latest production marking 50 years since the Trefechan Bridge protest.
Starting from the Arts Centre, on Sunday, February 3, this unique promenade performance weaved through the streets of Aberystwyth and used a combination of live theatre, film, digital technology and social networks. The journey visited the prom, the post office and the cafes of the revolution before reaching its historic climax on the bridge, bringing the past and present together.
Jacob Ellis, Bethan Walkling, Catrin Faulknall and Alaw Gwyn Rossington were among 17 students from Aberystwyth University in the cast.
Jacob is a Politics and Welsh student and comes from the Vale of Glamorgan. "This was our chance, he said "to pay homage to all the people who fought for the language".
Bethan from Pontypridd, is studying Drama and Welsh at Aber and enjoyed the experience of working with fellow students from all parts of Wales. "I was proud to be working in Welsh, and enjoyed meeting students from other universities and working with them."
Catrin is from the Rhondda and the Drama student also enjoyed working on the performance. "It was an incredible experience, she said, the opportunity to re-create history."
Alaw from Llanfair Tal Haiarn is studying Drama and Education and regarded the experience as "a great opportunity to get a taste of working with a professional company."
It was a lecture by Saunders Lewis in 1962 which spurred the young members of Plaid Cymru to establish the Welsh Language Society. Led by joint secretaries, EG "Teddy" Milward and John Davies, the language movement organised a protest in the snow in Aberystwyth on February 2, 1963.
The aim was to get as many people as possible to receive a court summons and John Davies realised they could break the byelaw by placing posters on public property. Around 30 students came to Trefechan Bridge together to protest which would close the main road from the south.
Over the past fifty years Aberystwyth has played a key role in the history of Cymdeithas yr Iaith. Its headquarters and main office are based in the town.
The project was the result of a creative partnership between S4C and Theatr Genedlaethol, Green Bay Media, and the Arts Centre Aberystwyth and in cooperation with y Coleg Cymraeg Cendedlaethol, University of Glamorgan, Aberystwyth University and the University of Wales Trinity Saint David.
You can relive the day's event through:
Storify: Tweets, Interviews, Videos, Photos, Reviews: all in one place.
AU5013