Modern milk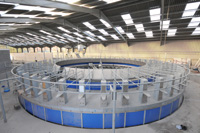 The agricultural sector at next week's Welsh Winter Fair in Builth Wells will hear how IBERS at Aberystwyth University is building new dairy facilities to help support future developments for the dairy industry in Wales.
The new state of the art rotary milking parlour is a super-efficient facility that will cut back on labour and costs and provide a model for environmental standards.
The theme of the annual breakfast held at the Fair by the Institute of Biological, Environmental and Rural Studies this year is 'A Positive Future for the Welsh Dairy Industry? What role does IBERS play?'
'A major resource' for Welsh dairy farming
"The new rotary milking parlour is a prime example of IBERS contribution," says IBERS Director, Professor Wayne Powell. "The methods that we develop and the information we gather will help the Welsh dairy industry compete in the future.
"This is a major resource to underpin Welsh dairy farming. It is a facility with sustainability at its heart!"
Research carried out at the new parlour will provide valuable information and new ideas for dairy farmers in Wales and throughout the UK.
The breakfast at 8.30 on the second day of the event in Hafod a Hendre is part of a full two days' activity on the IBERS' stand where experts will be on hand to explain more about how the Institute's scientific research work provides practical support for Welsh farming, and benefits the economy and society.
Amongst them will be scientists from IBERS' world-leading oats breeding programme – new varieties of the crop are being developed with higher levels of the anti-cholesterol ingredient beta glucan. Oats are particularly suitable for growing in areas like Wales.
 
On the IBERS stand, IBERS is running a medley quiz with questions linked to several   ongoing farmer supply chain projects. It's a chance to win a lovely Christmas hamper full of local Welsh produce while testing your knowledge of soil analyses, forage crops and sheep breedtypes.  Using both children's building blocks and touch screen technology the exhibit has something for every farming family and hopes to bring to life the PROSOIL, SLP Evaluating sustainable lamb production, QUOATS and other applied R&D at IBERS.
How the parlour will help Welsh farmers
The £1 million investment is taking place at the Lodge Farm at Trawscoed and is due for completion early in the New Year.
The new milking and cooling facilities and a cubicle shed will also be a vital addition to research and teaching facilities at IBERS (the Institute of Biological, Environmental and Rural Sciences).
Using the latest technology, the equipment will allow scientists to record the milk production of each individual cow and feed each one a different supplementary diet.
A viewing gallery will allow staff, students and other visitors to see the parlour in operation – along with daily access to performance data, this will support teaching, learning and knowledge transfer.
This is how the new parlour can help show the way for Welsh dairy farming:
• Efficiency – the new equipment will cut back on labour costs and meet the latest legal environmental requirements whilst milking more cows more quickly – previous facilities at IBERS' farms haven't been adequate for the number of cows.

• Cost and labour savings – milking at the new parlour will take up half the number of man hours.

• Energy savings – cows will be milked more efficiently, milk cooling equipment will be more efficient with heat recovery units and vacuum pumps.

• More information – all cows will be identified electronically and will carry activity meters which can provide vital information about the animals' behavioural pattern.
AU28811