Inspiring physics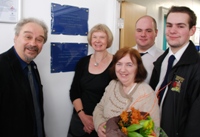 Left to Right: Professor Manuel Grande, Professor April McMahon, Mrs Susan Jenkins, Morgan Jenkins and Meurig Jenkins at the unveiling of the plaque to commemorate Dr Tudor Jenkins.
A newly refurbished suite of laboratories at the Institute of Mathematics and Physics (IMAP) at Aberystwyth University has been named after Dr Tudor Jenkins, an "inspiring physics teacher" who died suddenly in November 2009.
The new Tudor Jenkins Laboratories have been developed at a cost of over £300,000, and were officially opened by the Vice-Chancellor of Aberystwyth University, Professor April McMahon, on Monday 7 November.

Professor McMahon was joined by Dr Jenkins' widow, Mrs Susan Jenkins, and their sons Morgan and Meurig for the unveiling of a plaque to commemorate the occasion. Their daughter, Bethan, was unable to attend due to work commitments.

Addressing an audience of staff and students at IMAP, Professor McMahon said: "It gives me great pleasure to open the new Tudor Jenkins Laboratories. It is clear from the number of staff who have gone on to work at the Institute after studying under Dr Jenkins, that he was an inspirational figure who was committed to the teaching of physics at all levels. It is therefore very fitting that these bright new teaching laboratories should carry his name."
Professor Manuel Grande, Head of IMAP said: "Mathematics and Physics at Aberystwyth have enjoyed one of the most successful recruitment years in recent times with a 58% increase in the number opting to study Physics for the 2011/12 academic year alone. The Tudor Jenkins Laboratories offer the latest in teaching technology and a bright new flexible space that means much larger groups of students can be accommodated without compromising the quality of their learning and teaching experience. In so doing, I'm sure that Tudor would have approved."
Dr. Tudor Jenkins, who was originally from Treherbert in south Wales, joined the Department of Physics at Aberystwyth in 1983. He became a Senior Lecturer in 1990 and a Reader in Physics in 2007. His inspirational qualities as a teacher were recognised in 2005 when he was presented with the University's Award for Teaching Excellence.
At Aberystwyth he also established a research group studying the properties of ultra-thin films on solids and developed new ways of studying the electronic properties of solids using optical spectroscopy.
As an undergraduate, Dr Jenkins read Physics at Corpus Christi College, Oxford, where he was an Open Scholar. He went on to join the Clarendon Laboratory, Oxford, where he obtained a D.Phil. in the electronic properties of insulating solids under the supervision of Dr. J.W. Hodby.
He subsequently spent four years as a post-doctoral research assistant in Cardiff University, before being appointed Lecturer in micro-electronics at St Andrews University in 1979.
He was a Fellow of the Institute of Physics (IoP) and received the IoP Chair of Branches Medal for services to Physics in Wales in 2003.
He was also a considerable musician, particularly competent on the tuba, and on the lute, guitar, piano and organ, and was a member of the Aberystwyth Silver Band for 26 years.  In sport, he was an energetic squash player and a karate expert (first kyu rank).
AU26811