Parents' participation in education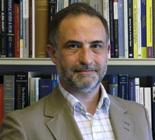 Dr Marco Odello, Senior Lecturer in Law, Department of Law and Criminology
Today, Friday 14 October, Aberystwyth University announced the findings of a project on the development of human rights indicators regarding the participation of parents in compulsory education.
In an event convened by the Department of Law and Criminology at Aberystwyth University, partners from across Europe presented their findings from a three year project sponsored by the European Union into the role of parents, and the level of their participation, in ensuring the quality of education.
Dr Marco Odello, Senior Lecturer in Law at Aberystwyth University was joined by Professor Michele Brunelli, UNESCO Chair from the University of Bergamo, Italy and Ms Valeria Ariategui from OIDEL, a Geneva based NGO dealing with human rights and education, in presenting their findings of the research project. The project involved a network of eight partner institutions from across Europe with Wales and England being represented by Dr Marco Odello and Jill St George, both from the Department of Law and Criminology at Aberystwyth University.
The project developed new indicators that may clarify and measure the level of legal recognition of parental rights, including the right to participation, to choose, to appeal and to get appropriate information about schools. This project is part of the European Union Council strategy to improve the level of democratic governance of education systems defined in the 2010 Charter on Education for Democratic Citizenship. Furthermore, the project has taken into consideration international conventions on human rights to devise appropriate indicators.
Dr Odello said: "The project involved surveying across 15 European countries including the UK in order to explore the key elements in ensuring quality education. In doing so, we considered how the governance of education systems has an impact on the quality of education and how good governance also results in a higher level of involvement amongst stakeholders.
During our studies, we developed a number of indicators which support the measurement of parental involvement in European education systems. Our research has highlighted two needs, the first to put in place arrangements that reflect the expectations and views of parents and secondly to devise formulas or methods that support parental involvement in education".
It is envisaged that the findings of the study, and most significantly, the indicators identified will enable policy developers within governments to effectively monitor and measure the quality of education. England and Wales have already shown very high levels of recognition of those rights. There is room for further development though, in particular in the area of training for parents in dealing with school management and participation.
During today's event, a full report 'Parental involvement within the school; An innovative approach to the quality education' published in English and French by L'Harmattan, Paris was launched and it shall be distributed to relevant stakeholders in the UK.