Student of the year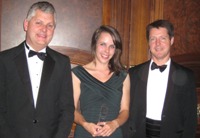 Victoria Franks winner of SET (Europe) Biology Student of the Year 2011 award with Dr Mark Downs, CEO of the Society of Biology (left) and Dr Rupert Marshall from the Institute of Biological, Environmental and Rural Sciences at Aberystwyth University.
Aberystwyth University zoology graduate Victoria Franks is the Science Engineering and Technology Awards (Europe) Biology Student of the Year for 2011.
The announcement was made on Friday 23 September at a glittering awards ceremony attended by hundreds of academics, industry executives, and senior figures from government, scientific and technical institutions at the Millenium Hotel in London.
Of 600 nominees, Victoria, who studied at Aberystwyth's Institute of Biological, Environmental and Rural Sciences (IBERS), was one of just three finalists, selected on the basis of a synopsis of her honours project.
Titled "Brains or daring: shoaling fish follow the leader", Victoria investigated social learning in tropical guppies.
The finalists were judged by five leading scientists on the basis of a presentation and interview, held at the Society of Biology in London.
Accompanied at the Awards ceremony by her project supervisor, IBERS Lecturer in Animal Behaviour Dr Rupert Marshall, and her mother, Victoria was stunned to hear her name read out as the winner: "I can't quite believe it. It's fantastic to have won – I don't think it's quite sunk in yet."
Victoria, who is going on to study for an MSc at the Royal Veterinary College, added "I loved studying at Aberystwyth and it's an honour to be thought of as a good ambassador for biology"
Dr Rupert Marshall, who nominated her for the award, said "I'm absolutely delighted and proud of Victoria's achievements. The Award reflects the dedication of everyone at Aberystwyth who contributes to our biological degree schemes. Victoria is a perfect role model for biosciences students."
Aberystwyth was this year again ranked 4th in the UK for student satisfaction among UK campus universities. Vice-Chancellor Prof April McMahon said "I am very pleased at Victoria's success. This prestigious award highlights Aberystwyth's excellence in research led teaching and the commitment of all our staff to enhancing the student experience."
Professor Wayne Powell, IBERS Director said: '"I am delighted that Victoria has won this prestigious, European wide award. It reflects the excellence and commitment of our staff to inspire and motivate our talented undergraduate students."
The Science, Engineering & Technology (SET) Awards are the world's most important awards for science and technology undergraduates and are designed to provide a showcase for educational excellence by publicly recognising the exceptional achievements of both students and universities.
AU23511