The Coast Path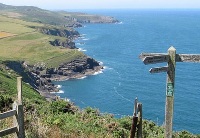 The Pembrokeshire Coastal Path.
Dr Damian Walford Davies, Head of the Department of English and Creative Writing, is the co-presenter of an ambitious new series on S4C which starts on Monday 12 September at 9 p.m.
Llwybr yr Arfordir
(The Coast Path) takes viewers on an imaginative and thought-provoking journey on the Pembrokeshire Coast Path, from Amroth in the south to St Dogmaels in the north.
Damian's co-presenters are Jon Gower and Elinor Gwyn. Tramping the winding paths of history and the imagination, Llwybr yr Arfordir offers a portrait of life on that suggestive border between sea and land.
'This is a series that maps the path in all its variety,' Damian says. 'We divided this world-famous journey into six sections, and each of us chose to talk about those stories that fire our own imaginations – from megaliths, bats and tanks to pirates, blue lagoons and Nantucket whalers. You'll experience Pembrokeshire as it is, and as it's been imagined.'
Further details are available on
http://www.s4c.co.uk/ffeithiol/e_llwybr_yr_arfordir.shtml
.