Success in Student Satisfaction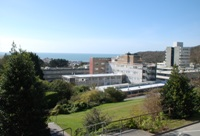 Success in Student Satisfaction
Aberystwyth University continues to be amongst the leaders for student satisfaction according to the National Student Survey 2011.
The National Student Survey (NSS) results were announced today, Wednesday 17th August. With a mean score of 4.3 (on a scale of 1-5 for student satisfaction), Aberystwyth University is in joint 4th place for public residential universities in the UK and, for the seventh consecutive year, is the highest rated higher education institution in Wales - reinforcing that the University continues to be held in high regard by its students.
The NSS is an annual survey of final year undergraduate students, which aims to inform the choices of prospective higher education students about where and what to study.
Overall satisfaction at Aberystwyth University remains very high at 89%.
Professor Martin Jones, Pro Vice-Chancellor said: "I'm delighted that Aberystwyth retains its place amongst the UK's leading institutions. Despite a challenging and turbulent time for the Higher Education sector it is particularly pleasing that the University continues to meet students' expectations in providing a fantastic and rounded educational experience."
Professor Jones continued: "These high scores in student satisfaction are also being translated into our application process with 2011/12 applications for undergraduate courses seeing a 16.6% increase. Successful applicants are also accepting Aberystwyth as their first choice in greater numbers than ever before. Furthermore, Aberystwyth will not be part of the Clearing process for the second consecutive year, demonstrating that Aberystwyth is attracting more applications from exceptional candidates."
Students were asked questions grouped into seven areas: 'the teaching on my course'; 'assessment and feedback'; 'academic support'; 'organisation and management'; 'learning resources'; 'personal development' and 'overall satisfaction'.
Aberystwyth University subjects achieving a very strong performance in the survey for 'Overall Satisfaction', with results of 4.5 and above on a scale of 1-5, include:
Accounting
Education
History
Human Geography
Physical Geography
Politics
Sports Science
Zoology
Subjects which significantly out-performed the UK average for 'overall satisfaction' include:
Accounting
Agriculture
Cinematics
Drama
Education
Human Geography
Physical Geography
Politics
Sports Science
Zoology
The NSS was conducted by Ipsos MORI. A total of 264,514 students participated in the survey this year, an increase of over 12,065 on last year and a response rate of 65%.
Data are available for prospective students, parents and advisors from the Unistats website (www.unistats.com).
AU19911