A Musical Feast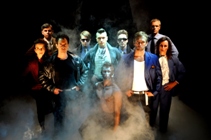 The cast from Chess
Aberystwyth University's Arts Centre this week presents two spectacular music events for the summer; Aberystwyth MusicFest and Chess, The Musical.
23 – 30 July 2011
MusicFest is a fusion of Music Festival and Summer School. The Summer School is unique in offering organised, structured chamber music opportunities and coaching, as well as superb learning experiences through the festival of concerts given tutors. Courses are run for string quartet, flute, clarinet, saxophone, composition, voice, solo strings, Wind Octet, Choir, Harp and piano. The daily evening and lunchtime festival concerts, together with student foyer performances and impressive student showcase concerts at the end of the week are powerful reminders of the rejuvenating effect of listening to live music. The engagement of audience, student, and artist alike creates the unique community atmosphere of MusicFest – refreshing, rewarding and thoroughly inspirational. Highlights from the concert programme this year include the Orion Orchestra, cellist Guy Johnston, pianist Tom Poster, the Solstice and Sacconi Quartets, the National Youth Choir of Wales, and the festival's artistic director, clarinettist David Campbell plus many more.  www.abermusicfest.org
21 July – 27 August 2011
Chess The Musical sees the team behind the record breaking production of 'Chicago' from 2010 return to take one of the most exhilarating shows in the musical canon. With a large, professional cast of performers, a live band, and extravagant set and costumes, this is proving to be another breathtaking production. A stunning score from the musical geniuses behind ABBA, Bjorn Ulvaeus and Benny Andersson, and the lyrics of Tim Rice combine to form a musical that has garnered a hugely loyal following around the world. Well known numbers include 'I Know Him So Well', 'One Night in Bangkok', 'Anthem' and 'Pity the Child'.  Early reviews of the production have been enthusiastic, with The Stage reporting: "Anthony Williams' production is electrifying, emotional and visually stunning…. Cast, director, designer and musicians deliver an outstanding production and make a very good musical into something very close to a great one."
"Come rain or shine, what better way to spend part of your summer holiday than listening to wonderful music," said Alan Hewson, Director of Aberystwyth Arts Centre. "We believe we have pulled together the perfect programme for Aberystwyth residents and visitors this year. There really is something for everyone – from the rock music of Chess, to classical favourites and world premiere performances in Musicfest.'
To make enquiries or book tickets, please visit www.aber.ac.uk/artscentre or call 01970 623232.