Venture capital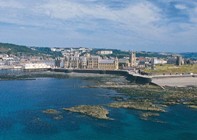 Venture Capital
Aberystwyth University and Bangor University are to launch an ambitious programme to develop an innovation fund to support small businesses in mid and north Wales.
For many years, both universities have worked with businesses in their region to share knowledge and expertise. Many spin out companies have been formed as a result of the practical application of research undertaken at Aberystwyth and Bangor.
Now, the two institutions are looking to take things to the next level by providing access to venture capital funding to ambitious local businesses, who will benefit from appropriate investment.

The fund will be operated independently of the Universities and will allow for the commercialisation of research, developed within the institutions and also from outside the universities, in the mid and north Wales region.
The venture capital fund of some £2m initially, will be financed from a variety of sources including private equity, and provides an emphatic underlining of the key relationship between the Universities and the communities they serve.

The Vice Chancellor of Aberystwyth University, Professor Noel Lloyd said "Universities have a key role in promoting innovation and this is something which is at the very heart of our existing commercial activities. As we deepen and broaden the collaboration with our colleagues in Bangor, the time is now right to take a bold step in helping to support early stage companies, looking to invest and grow here in Wales."
The fund will likely be launched during the first half of 2012, subject to approval by the governing bodies of the two universities and the conclusion of discussions with the Welsh Government and other bodies.
Professor John Hughes, Vice-Chancellor of Bangor University added: "The launch of this fund demonstrates the firm commitment of both universities to contribute in a very direct way towards the economic development of our region. It also reflects the innovation priorities of the new Pontio project at Bangor which will make a substantial contribution to the local economy."
AU17811