Following his family's footsteps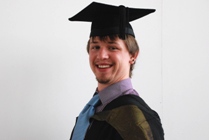 Jonathan Lowe
Jonathan Lowe graduates today with a BSc in Animal Behaviour from Aberystwyth University. Nothing strange in that - it's a popular course - except that he hails from Atlanta, Georgia in the USA. In fact, Jonathan is following in family footsteps: his great grandmother was Welsh and studied Geography at Aberystwyth in 1904 - indeed, his uncle still lives in Wales.
Jonathan explains: "My great grandmother, Edith Mary Turner was born on the 20th April 1893 in Trewern, Montgomeryshire, just inside the Welsh border, the daughter of a farmer, William Turner, and one of 10 children. She went to Aber in 1904 and gained a degree in biology before going on to complete the equivalent of a masters degree in geography under Professor Fleure.
She was always inordinately proud of the fact that they were beginning the discipline of modern geography. When she left Aber she went to teach at The College, Pontypool, which she loved, and I have no doubt she was an excellent teacher. She left to marry my great grandfather, Frank George William King, in 1922. He was also at Aber and graduated with a degree in physics. The story that she always told us was that they met during a whist drive, and they won all 13 tricks! He was in the Royal Flying Corps during the first World War, and joined the research department of Dunlop Tyres in 1919. He spent his entire career at Dunlop, and was their technical director when he retired in 1956"
Jonathan's decision to cross the pond and study at Aberystwyth was coincidental: he was fascinated by the world of animal behaviour from an early age and after much research decided that Aberystwyth's BSc degree in Animal Behaviour was exactly what he needed to get ahead in the job market.
Three years later and his studies here have paid off - after the graduation ceremony Jonathan will be returning to the USA to start a job as a research assistant working on animal behaviour projects at the Yerkes National Primate Research Centre at Emory University in Georgia. When he returns, he'll be taking with him some big memories of the small town on the coast of Cardigan Bay. And hopefully it won't be another four generations until the next member of the Lowe family studies at Aberystwyth.