Making Music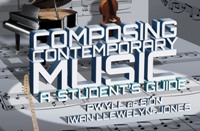 Composing Contemporary Music... A Student's Guide
The Centre for Educational Studies' latest publication, on the art of music composition: Composing Contemporary Music... A Student's Guide, was launched this week.
The book, by the two well-known musicians, Pwyll ap Siôn and Iwan Llewelyn-Jones, was launched at the Millennium Centre in Cardiff on 13thof June, with contributions from Pwyll ap Sion and also Gareth Bonello  of The Gentle Good.
According to Lynwen Rees Jones, Director of the Centre for Education Studies: " This book will be very valuable to students studying Music at AS and A Level, especially as the authors are specialists in this field." The handbook, which is available in both Welsh and English, is accompanied by a CD of examplary music which will guide students with their compositions.
Composing Contemporary Music... A Student's Guide is the latest in a long line of publications by CAA, which is a part of SELL.  For further information about the centre's work, visit their new website at: http://www.aber.ac.uk/en/caa/
Further Information: Flur Pughe fap@aber.ac.uk
AU15111